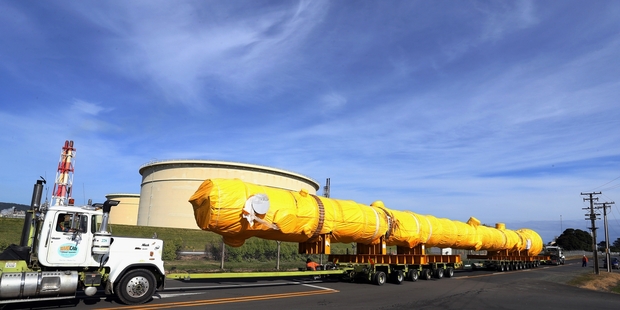 A behemoth reactor has finally arrived at the New Zealand Refinery at Marsden after calling in at five ports across Asia.
The 172-ton, 52m machine arrived on the ship BBC Victoria at Northport about 7am yesterday and workers began unloading it from 12.30pm.
It was expected to leave the port heading to arrive at a laydown area at the refinery after 4pm yesterday.
Refinery spokesman Greg McNeill said the reactor left Mumbai in India around September 20 and called at five ports across Asia, including Indonesia and Newcastle in Australia, before arriving at Whangarei.
The reactor is the first major piece of kit to arrive at the port for the refinery's $365 million Te Mahi Hou project and is at the heart of the CCR unit (Continuous Catalyst Regeneration) to be constructed at Refining NZ.
The Continuous Catalyst Regeneration Platformer project will lift the refinery's capabilities up to 80 per cent of all New Zealand's fuel needs, providing a more reliable fuel source for the country.
Construction will create about 300 on-site jobs and hundreds more off-site over the next four years.
The reactor's shipping from India was co-ordinated by freight forwarder, SDV New Zealand.