Initiative to raise awareness of what can be done to protect our children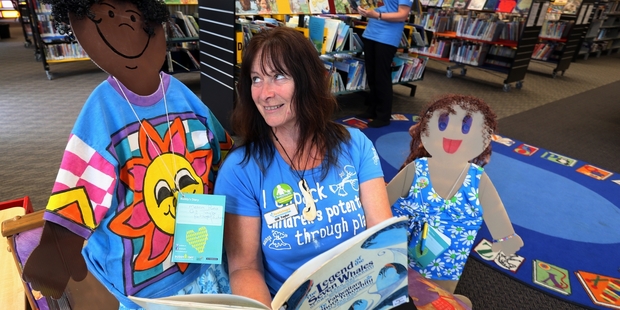 Rachel Hunter has one. So does John Key. And so do two Whangarei early childhood educators.
A buddy - life-size cut-out child - to highlight that it's a community responsibility to keep children safe from abuse.
Yesterday was nationwide Buddy Day, organised by child-abuse prevention charity Child Matters to raise awareness and get people talking about child abuse.
Child Matters partnered with early childhood education organisation Footsteps to bring 'buddies' to local communities such as Whangarei.
Northland Footsteps teachers Gill Taylor and Delwyne Gray, accompanied by their buddies Sandy Shaw and Melvin Puna, visited various Whangarei locations yesterday in an effort to highlight that it's a community responsibility to keep children safe from abuse.
They met people and engaged in discussions at Barnados, CYF, Whangarei Hospital, Whangarei Central Library and Forum North, to name a few.
"We need to be having those conversations [about child abuse]. We need to be working as community again and support each other. It takes a community to protect a child," said Ms Taylor.
"The children are our taonga. We need to ask ourselves do we uphold or deplete the mana of our children."
"We [also] need to educate our children about keeping themselves safe, empower them to have a voice, and encourage them to speak," she said.
"Those conversations need to be had with everyone - our children, our adults. But we - as the adults - need to start the conversations," Ms Taylor said.
Her fellow Northland Footsteps kaiako/teacher Delywne Gray agrees. "Northland does have a problem - it really does," said Ms Gray.
"We want to make a change. We want people to start talking, and start doing something about it."
Child Matters chief executive Anthea Simcock said most people think child abuse is something that happens to other people and there's nothing they can do to stop it.
"But, there is something every adult can do. We can speak up for children; children can't prevent child abuse, adults can. Educating adults about where they can go if they suspect abuse, and empowering them to speak up if they do, is part of the solution to preventing child abuse."
"Raising awareness is important. That's what Buddy Day is all about," Ms Simcock said.