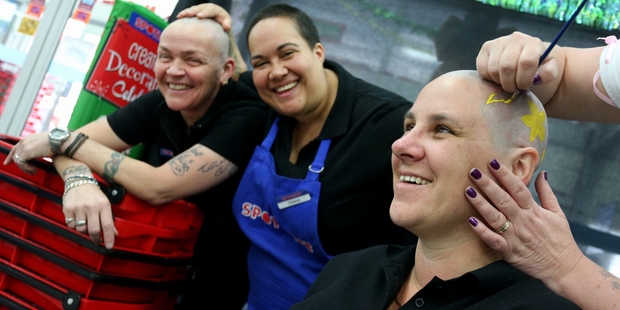 It was a case of hair today, gone tomorrow, for four Whangarei Spotlight staff who shaved their heads in support of cancer.
Spotlight store manager Hales Lawrence, department team leader Wendy Jarrett, staff member Chianne Stevenson and dispatch leader Angela Perrin all lost their locks at the store's VIP evening on Thursday, with proceeds raised going to the Cancer Society.
"It's very cold. It's weird. But it's not as bad as I thought it was going to be, given the suspense leading up to it," Ms Perrin said.
The evening raised an estimated $3000, and to celebrate last Friday Ms Perrin had her head razored, and then painted with daffodils by local artist Kelly Jelavich in store.
"The [barber] had never razored a woman's head in the 52 years he'd been barbering for," she laughed.
Fundraising for cancer has particular relevance for Ms Perrin - she lost both her mother and father-in-law to cancer.
It is also a matter close to the heart of fellow shavee and staff member Stevenson, who has been in remission from leukaemia for the past 16 years. She was diagnosed at 6-years-old and says it means a lot to be able to give back to other children now in that position.
Lawrence said the evening was a great success, with five onlookers opting to also have their heads shaved, including Santa, and over 200 people through the doors.
"It was a great effort by the team."