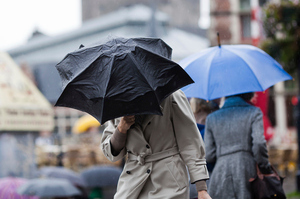 An active front is expected to sweep southeast over Northland and Auckland this afternoon and evening, say MetService in their latest forecast released at 8:38am today.
There is a high risk of thunderstorms slightly ahead of the front and with the front in the far north this afternoon and then extending south over the north of Auckland this evening.
These storms could be accompanied by heavy rain 15-25mm/hr, strong wind gusts 90 to 110 km/h and possibly small tornadoes.
There is a moderate risk of severe thunderstorms slightly ahead of and with the front over the east of Northland this afternoon and evening and the northeast of Auckland this evening as indicated on the map. These storms could be accompanied by damaging wind gusts in excess of 110 km/h, tornadoes and downpours, 25 to 35mm/hr.
Daytime heating is likely to generate some showers over the Tarararua Ranges this afternoon and there is a low risk that some of these could be thundery with hail. Elsewhere, no thunderstorms expected.