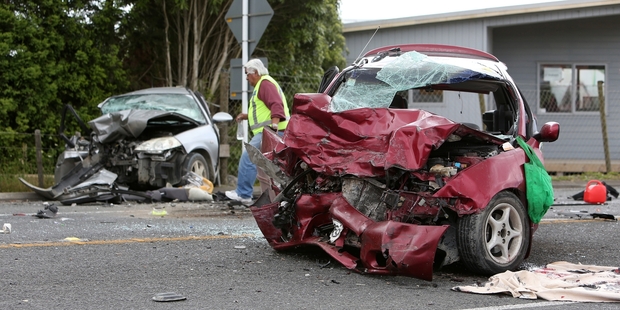 Police are urging motorists to be extra cautious after a crash at Kauri killed two people, pushing the region's road toll this year to just one fewer than for the whole of 2012, with the worst two months for crashes still ahead.
Sergeant Chris Goodall of the Northland police highway patrol said a man from Puhoi watched in horror as an oncoming hatchback crossed the centre line, smashed through the caravan he was towing and into the following station wagon being driven by his wife.
The wife, Gaylene Grant, 51, from Puhoi, and driver of the hatchback, Roderick Leonard, 54, from Hikurangi, died after the two vehicles struck head on, about 2pm on Saturday at the intersection of State Highway One and Richards Rd, just north of Whangarei.
The deaths take Northland's 2013 road toll to 17, one less than for all of 2012 and with November and December traditionally the worst months for crashes on Northland's roads, Mr Goodall is pleading with motorists to take extra care.
He said it was a tragedy that the man towing the caravan saw the scene unfold behind him after the hatchback had gone through the caravan on a straight stretch of SH1.
"It was an absolutely terrible scene. We are still looking into the cause of the crash, but early indications are that the driver of the southbound vehicle [the hatchback] may have fallen asleep," Mr Goodall said. The husband was not physically injured, but was in a state of shock after witnessing the crash.
The three vehicles involved were all carrying only one person - the drivers - and the two who died had to be cut from the wreckage by firefighters. Driving conditions were good and the weather fine at the time, he said.
If the driver of the hatchback was found to have fallen asleep it would be a tragic reminder of the need to be careful when driving. "Clearly fatigue has been identified as a very big risk for drivers and other road users," he said.
"This is now the worst time of the year on our roads for crashes, with the crash rates increasing over spring and summer, so we urge our people to please take more care. Fatigue, speeding and following too close are all major causes of crashes."
Northbound traffic was diverted at Apotu Rd and motorists travelling south were diverted at Jordan Valley Rd for about three hours while the crash scene was dealt with by emergency services. The police serious crash unit was also in attendance and is investigating.
Hikurangi fire chief Snow Buckton was at the crash site within minutes. "It used to be a bad accident spot until the layout of the road was changed a few years ago. I had not attended a crash there for a long time," Mr Buckton said.
"We had three fire trucks and a support van in attendance and there was a lot of police and ambulance there, too."