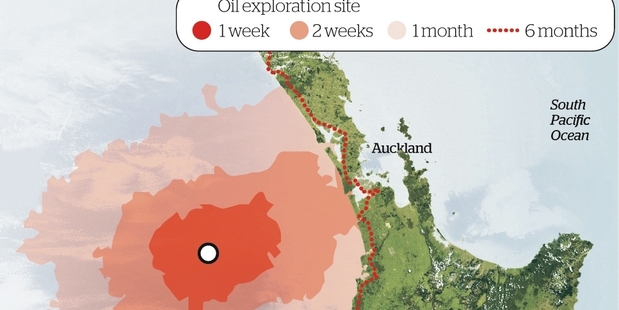 Eco-watchdog Greenpeace is warning it could be curtains for much of Northland's west coast if a major oil spill occurred off Taranaki but New Zealand's oil exploration cheerleaders say those claims are "fear-mongering science fiction".
Greenpeace has commissioned a new model to gauge the effects if a blow-out similar to the Deepwater Horizon oil well disaster in the Gulf of Mexico took place off Taranaki and Otago.
The Greenpeace model predicted a spread of black crude oil from Cape Egmont to the Hokianga Harbour, with Northland's and Auckland's west coast at ground zero.
"There's no way Northland would be able to respond to something of that scale," Northland regional harbourmaster Jim Lyle said.
Even the Rena disaster in Bay of Plenty required an international response, Mr Lyle said.
Northland oil spill responders have been involved in major events such as the Rena response in 2011 and further afield, including the Deepwater Horizon spill of 2010, he said.
A fictional 200-litre oil spill from a stormwater drain and threatening Whangarei's Town Basin will test the skills of about two dozen local authority staff tomorrow.
The last exercise in April centred on a larger "spill" at Marsden Point and brought together around 35 trained oil spill responders from as far afield as Taranaki.
Mr Lyle said with the Marsden Point oil refinery on its doorstep and a high volume of commercial shipping traffic, Northland is one of the main focal points for oil spill response in New Zealand.
Waipu-based energy engineer Steve Goldthorpe said the Greenpeace oil spill map presented "a very low probability, very high consequence scenario".
"It is, of course, in the oil companies' financial interests to take steps to avoid such an accident.
"It is likely that the hydrocarbon resources being targeted are similar to the Maui field, where the high-value product is condensate, or light liquids such as gasoline," Mr Goldthorpe said.
"[The] presence of heavy, black, tarry liquids in that location is unlikely, but not impossible.
"That said, the extended release of large amounts of any hydrocarbon liquids into the ocean would have very significant adverse environmental impacts."
Petroleum Exploration and Production Association New Zealand boss David Robinson said Greenpeace's report was pure scare-mongering designed "to frighten Kiwis".