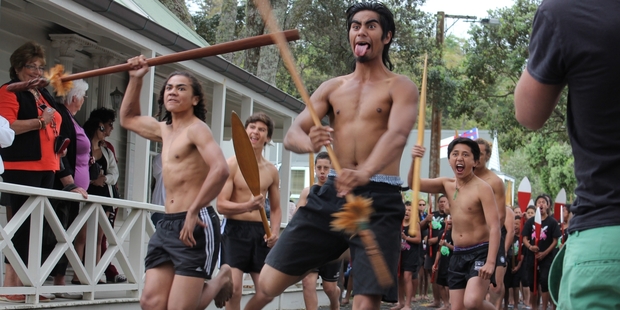 The captain of one of the tall ships visiting Northland says Saturday's traditional welcome at Russell was the warmest he has ever received.
Gijs Sluik, captain of the 98-year-old Dutch gaff ketch Tecla, said he and his crew were overwhelmed by the powhiri that saw them escorted down Russell wharf and given a series of fearsome challenges along the The Strand. Kaumatua offered speeches of welcome in a marquee on the lawn next to Haratu Marae while young kaihoe [waka paddlers] performed waiata and a spine-tingling haka.
Mr Sluik said the welcome was "brilliant", especially after a year at sea. "After all the places we've been, this just topped them all. We've never had this kind of welcome, ever. We feel very welcome, even a little bit at home, because of the warmth and the connection we've felt."
The visiting ships, from the Netherlands, the UK and Australia, will be taking part in Tall Ships Festival in Auckland over Labour Weekend. Some have left already while others are taking a break in the Bay before sailing south.
Mr Sluik said the Tecla was heading for Waiheke Island to sample the wine and complement the Northland oysters the crew had been enjoying.
The ships set out from Sydney on a transtasman race won by the 102-year-old Dutch barque Europa, which took just over seven days at an average speed of 6.5 knots. It was followed by Tecla and the Spirit of New Zealand. Young Endeavour (Australia), Lord Nelson (UK), Oosterschelde (Netherlands) and Picton Castle (Canada) retired from the race after having to use their engines. Lord Nelson broke part of its rigging but a new fitting is being made at a Whangarei marine workshop.
The welcome was put on by Haratu Marae and the combined waka group Korowai with kaihoe from Auckland and Northland. Speakers included Sonny George, Arapeta Hamilton and Richard "Blandy" Witehira representing iwi; new Far North Mayor John Carter; and David McKenzie representing Russell.
Visiting captains Chris Phillips (Lord Nelson), Michael Gough (Young Endeavour) and Gijs Sluik (Tecla) responded.