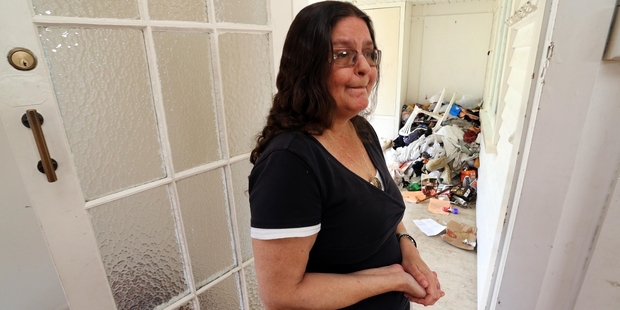 Whangarei landlady Jo John has been left with a smashed up house and a pile of decaying rubbish thanks to undesirable tenants and there is little chance of recovering the repair costs.
The distressed property owner says she followed the letter of the law and, after deciding to evict the two males, organised a tenancy hearing.
The two men, in their mid 20s, moved in on September 2 and nine days later, she says, "all hell broke lose".
As a result they were given two weeks before they had to move from the Regent flat on Kamo Rd - which was yesterday. What greeted Mrs John yesterday morning as she entered the flat was a pile of stinking rubbish, including broken plastic chairs, a bucket of cigarettes, rotting food scraps, kids' books and a variety of clothes and bedding.
The kitchen was not much better, with dirty dishes scattered across the bench and empty cans across the floor.
She said that in the two-week period the tenants were given to move out, holes had been punched in the lounge walls, and in the laundry the door had been ripped off the hot water cupboard and the cylinder stolen.
Used condoms hung from the rose bush outside, which was surrounded by a pile of empty alcohol cans.
"I live on site. I have had to sit here and watch and listen to them destroying my property," Mrs John said. "They shouldn't be allowed to get away with it. This is soul destroying."
"There was a party, there were fights, there was a gang of youths and they were disturbing the peace." Police had frequently visited the flat.
Yesterday Mrs John contacted police about the cylinder theft but feels heartbroken that her lovely cottage-style flat has been trashed. Mrs John was unsure whether insurance would cover wilful damage.
She and her husband bought the property in 2005 and have been vetting residents for the six flats at the complex.
The two men fronted up and looked "decent enough", with one saying he had moved from Christchurch to be closer to his 3-year-old son.
They had paid a $480 bond - two weeks' rent - but that would no got far towards the repair bill and they were a week behind in rent. They were due to be out yesterday but left under the cover of darkness, posting the keys in the mailbox.
Ministry of Business, Innovation and Employment spokesman Britton Broun said it was a very unfortunate situation and the department infrequently received complaints of this nature.
"The landlord has had the tenancy ended in this case through the tribunal, and the extensive damage caused following the hearing and moving out day would have to be dealt with through a further application to the tribunal for monies owed to repair and clean-up," Mr Broun said. That could be done in conjunction with laying a complaint with the police of wilful damage and theft.