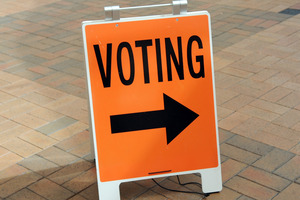 By the end of today Whangarei will have a new mayor and the Far North will find out if it, too, has a new leader or if incumbent Wayne Brown will be re-elected for a third term.
The deadline for votes in local body elections was noon today and provisional results should be known after 7pm tonight.
The race to be the next mayor of Whangarei through the local body elections is the most crowded ever, with 12 candidates - Stuart Bell, Glenn Chapman, Crichton Christie, Vince Cocurullo, Shelley Deeming, Sheryl Mai, Greg Martin, Isopo Samu, Stan Semenoff, Warren Slater, Warwick Syers and Graham Tadman - putting their hats into the ring to be the next mayor after incumbent Morris Cutforth did not stand for re-election.
In the Far North, the mayoral race is between Mr Brown, John Carter, current deputy mayor Ann Court, Mita Harris, Rueben Taipari Porter, Allan Titford and Sarah Watson.
There's no vote for the Kaipara District Council this year, but there are also polls for the Northland Regional Council and Northland District Health Board.
As of late yesterday, voting was down on last election.
In Whangarei 43.19 per cent of voting forms had been returned, compared to 45.1 per cent at the same stage in 2010.
In the Far North 43.29 per cent of votes had been returned compared to 43.3 per cent in 2010 while in the Kaipara only 30.44 per cent of votes had been cast, compared to 48.8 per cent at the same stage in 2010.