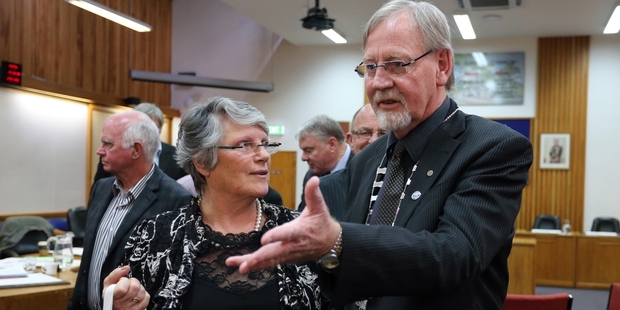 Whangarei Mayor Morris Cutforth wanted to finish with a flourish. Instead, the mayor has acknowledged he was going out with a "whimper" and a song.
Mr Cutforth gave his valedictory speech to councillors and staff yesterday after he decided not to run for office again after his inaugural three-year term, largely because of ill health that has seen him miss large parts of his term.
His recent painful back fusion operation had seen him lose 10kg which came after a heart attack early in his term that saw him miss several months.
Despite the health problems Mr Cutforth said he was proud to have served the community and worked with a great bunch of councillors.
Mr Cutforth took umbrage at a recent newspaper report implying the council had been operating in a vacuum for the past three years, saying his council had achieved more than any other council had done.
"I suggest that's because we have been doing the work of good councillors," he said.
Mr Cutforth said many of the things that had been achieved by his council - including the second harbour bridge, a cleaner harbour, walking/cycling loop, Town Basin improvements and Porowini Ave extension - had been started by previous councils, but he had decided to finish the projects.
"Besides all the works and infrastructure projects completed during my term, I am most proud of the efforts council has made towards engaging with Maori and youth," he said.
"I believe the creation of Te Karearea [its strategic partnership forum with Maori] and the youth advisory group has given us a template for the future."
His biggest disappointment was that that the council was unable to begin the Hundertwasser Arts Centre project when councillors had earlier agreed to go ahead with it.
"I applaud the decision made last June [2012, to go ahead with the project]. What has changed? No spade in the ground," he said.
"I know it's controversial, but that is the very reason why we should have it. It will bring visitors, work and a new hotel. It will define Whangarei in a way that is unique. I cannot be more convinced that it should be built and soon."
And he finished his speech in fine voice, with a song - Be Yourself (because you can't be anybody else).