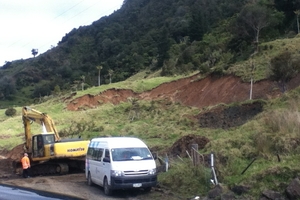 Last week's storms have left Far North ratepayers with a roading repair bill of up to $1.5 million, council staff say.
The two fronts dumped up to 190mm of rain in the Tutamoe Ranges and North Hokianga. The second front, which passed through on Wednesday night, also knocked out power to 3000 Far North households, mainly as a result of trees falling on powerlines.
Far North District Council infrastructure manager David Penny said a number of roads were made impassable due to floods and slips. Staff estimated the cost of reopening and repairing damaged roads could hit $1.5 million. By Monday, Runaruna Rd, in North Hokianga, was still partly blocked by a series of slips 7km from the Pawarenga Rd junction. Small vehicles only could get through.
When the rain was still on the way on Tuesday, the council took the unprecedented step of closing its entire unsealed rural roading network to logging trucks and heavy truck-and-trailer units moving metal.
The ban was lifted on Friday.
Mr Penny said the closure, which was allowed under Ministry of Transport regulations, aimed to reduce the damage heavy traffic could do to sodden metal roads and protect ratepayers' investment in the network.
Milk tankers and stock trucks were exempt.
The restrictions would be brought in again whenever severe weather warnings were issued. Mr Penny said the council had closed one or two roads before in wet weather but had never restricted traffic on the entire unsealed road network.
"We appreciate this might seem a draconian measure but we really have no choice here. Heavy trucks can cause hundreds of thousands of dollars of damage to sodden roads in a short space of time."
Council staff were developing an email notification system to directly inform the forestry sector about future road closures.
"We're asking the forestry sector to co-operate with us in the interests of all road users. However, transport regulations do allow us to fine transport operators that ignore the temporary restrictions," he said.