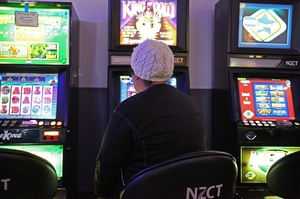 Northland gamblers dropped $30.8million into pokies in the last year - the equivalent of about $84,380 a day.
But Department of Internal Affairs figures show the region's total gaming spend was down 5 per cent in the year to June - from $35million the year before. The number of pokie machines operating in Northland has also fallen from 756 to 719.
Nga Manga Puriri Trust Gambling Services programme manager Marino Murphy was surprised by the decrease in pokie spending, because her service was so busy it had hired another counsellor.
"It's devastating. It's getting worse in my books. There's no money. People are really struggling. They think there's a chance [by gambling]. There's hope that they can just pay the power, get more food - it doesn't happen."
The figures come amid a government proposal to give more pokie machine profits back to local communities, which problem-gambling experts applaud, but some question whether the plan goes far enough.
At present, organisations that distribute pokie proceeds must give 37 per cent to community groups, which applied for about $250million in grants a year. However, a discussion paper issued by Internal Affairs has proposed an increase in the minimum threshold to between 40 and 43 per cent within four years. Raising thresholds would channel $7million into the community for every percentage point rise.
Mrs Murphy said her clients were angry and upset because they were not seeing proceeds used locally. "Our communities are screaming out to us right now and saying, 'We don't actually see 1 per cent of that'."
Many locals wanted pokie machines removed so the trust was working with them and local councils to find workable solutions, she said.
A review of Class 4 gambling, or gaming, machines, aims to make the sector more transparent and fair. Internal Affairs Minister Chris Tremain said he wanted the minimum amount trusts gave away to rise. Many big trusts - such as Lion Foundation and New Zealand Community Trust - already gave more than 40 per cent, he said.
New Zealand Problem Gambling Foundation chief executive and Northlander Graeme Ramsey said he supported the raised threshold, but grants were not reflecting necessarily what community priorities were.
There was a need for greater transparency in the operation of trusts. "We've got the same people operating the machines as handing out the money - self-appointed people who are doing this with public funds."