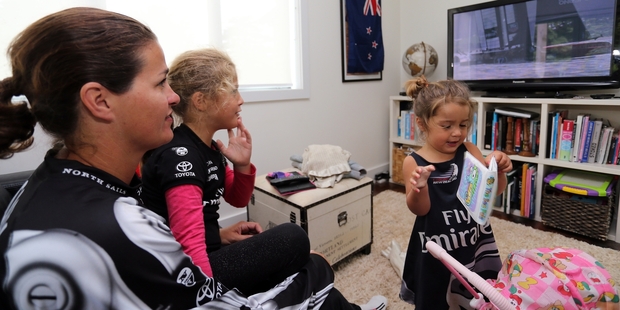 Whatever the result of the winner-takes-all race this morning, Suzy McAsey will be relieved six years of planning and execution for the America's Cup will be over for Team New Zealand, especially her husband and crew member Chris.
The Whangarei mother-of-two returned home early this week after two-and-a-half months in San Francisco where she watched most of Team New Zealand's winning races but the latest string of losses has got her nervous.
Dean Barker and his crew aren't just battling for the America's Cup but for their very existence. She said it was not just a race but a livelihood for Chris.
"I feel for them [Team NZ crew]. They worked so hard, were so professional but I thought yesterday Oracle just got better at either finding speed or sailing better," she said.
For the Kiwis, she didn't think the crew could do anything different in today's final race from what they had been doing thus far.
Mrs McAsey said it was hard to explain Oracle's turnaround, especially since the Americans were on the losing end at the beginning of the meet.
"Chris had said some time back that it could go right down to the wire but we can still have a great race, we can still do it. They [Team NZ] didn't win eight races for nothing."
A disastrous start in race 17, earning two penalties and an insurmountable deficit behind Oracle Team USA saw Oracle win their sixth race in a row by a margin of 27 seconds.
Then, in race 18, Team NZ skipper Barker nailed the start and led round the first mark - but Team NZ were undone by a brilliant upwind leg by the American side; Oracle eventually winning the thrilling race by 54s.