Reinga-Northland Basin up for bid in latest mineral exploration round.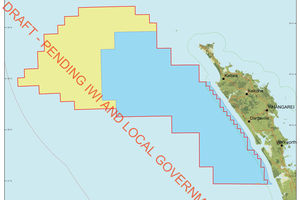 The Reinga-Northland Basin is again included in blocks the Government has put up for next year's tendering round for gas and oil exploration permits.
The 2014 Block Offer includes clusters of areas in the Reinga Basin off Northland's west coast, but further into the Tasman, beyond the blocks offered for tender in the 2013 year. Decisions on that 2013 consultation and bidding round are still pending.
The latest proposed Reinga-Northland Basin area covers 85,009.38sq km, with a maximum area of 10,000sq km for each permit.
On Wednesday, Energy and Resources Minister Simon Bridges announced the start of the Block Offer 2014 process.
A round of consultation will now begin with iwi, hapu and local authorities where a proposed block is in their rohe or area of jurisdictional control, and those whose rohe or jurisdictional area abuts the coast within 100km of a proposed offshore block.
Mr Bridges said the iwi consultation was an important first step in the Block Offer process.
"Their feedback ensures that any areas of sensitivity are carefully considered before the 2014 tender round is finalised," Mr Bridges said.
Northland MP Mike Sabin has embraced the move, saying investment in the sector presents an invaluable opportunity for Northland.
"Investment in mineral prospecting and exploration is at an historical high, and I am determined to ensure that Northland is able to reap the rewards of this industry," Mr Sabin said.
The release of the Northland offshore gas or oil "Block Offers", along with the granting of five permits for onshore minerals exploration, puts the region in a "circuit breaker" position, Mr Sabin said.
Tenders from exploration companies are expected in December, with permits likely to be issued in December 2014.
Five offshore areas and three onshore areas, covering nearly 434,000sq km, include the New Caledonia Basin, Taranaki Basin, Pegasus-East Coast Basin, Great South-Canterbury Basin and West Coast Basin (South Island).