CanTeen second family for Lil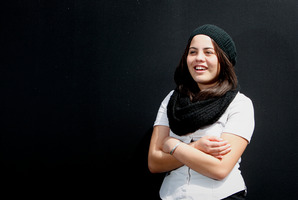 Lil Reihana's life changed the moment her netball coach spotted swelling and a large lump on the side of her neck during a game.
Even as she was taken to hospital, the Whangarei teenager never suspected that the lump would turn out to be cancer.
Weeks later, after a needle aspiration and surgery to remove her lymph nodes, doctors determined she had Hodgkin's lymphoma, a cancer of the white blood cells.
That was in October last year, and Lil was only 14.
Now in remission following chemotherapy, the now 15-year-old Whangarei Girls' High student is urging Northlanders to get behind CanTeen's national annual fundraising drive and Bandanna Challenge, which begins today in Northland with a garage sale from CanTeen's Whangarei office in Bank St.
CanTeen has supported her since she started treatment in Starship Children's Hospital late October last year, Lil says.
And it was a difficult journey from the get-go. The first chemo treatment brought on hair loss and a severe case of shingles.
"But the pills were the hardest. After the second treatment I was having 30 pills a day, to also help treat the shingles. The bag [Portacath] was all right compared to that," Lil said.
CanTeen provided her with company during what could have been an extremely lonely time.
"I did have my mum," Lil says.
"But there were a lot of little kids [in the ward], more than people my age.
"It was hard to be around so many others knowing they were sick," she said.
Lil's treatment finished in December last year, and she was declared in remission at the start of this year.
"I didn't realise the seriousness of it ... not til afterward."
If she makes it to five years of remission, she will be medically declared to be cleared of cancer.
While Lil said treatment did affect her school-work, she's taking it all in her stride and moving from Year 10 this year to Year 11 next.
She is also already back playing netball - premier reserve grade for Manawanui.
But she'll never forget the friends she made at CanTeen, and continues to go along to social nights, with activities such as bowling, and going to places like Rainbow's End and Kelly Tarltons.
"I have that connection with other members because there is understanding," she said.
"The CanTeen family is like my second family."