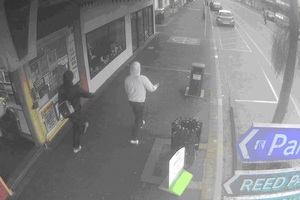 Readers of a Kaikohe Facebook page not only identified the teenage suspect in an armed robbery, they also found the owner of the stolen pistol.
When police announced the arrest on Wednesday of an 18-year-old man in relation to the gun-point robbery of the Shed Liquor Centre on Marino Pl, they thanked readers of the Kaikohe Community Watch Facebook page for providing vital information. No one was hurt in the robbery but about $400 was taken.
Businessman Tony Taylor, who administers the page, said the owner of the air pistol had also been found through the page. "Since we started the page we've managed to identify taggers, burglars and armed robbers," he said.
"Virtually everything we've put up has come up with a result. People are finally starting to work together. It's pushed the community, who are starting to dob each other in."
The page, which now has just under 3000 members in a town of 4000 people, has also located missing children and reunited a lost puppy with its owner.
People in Kaitaia, Kerikeri and Kawakawa have been contacting Mr Taylor for advice on starting their own community watch pages.
He put a recent drop in burglaries down to the page's effectiveness, saying criminals were feeling the pressure.
Mr Taylor also co-ordinates the town's community patrol but persuading people to help patrol the streets has been tougher than engaging them through Facebook. A recent public meeting called amid concerns about crime in the Kaikohe CBD drew 50 people but just one new member signed up.
Joyle Teaurere, 18, of Kaikohe, appeared in the Kaikohe District Court on Wednesday charged with the September 7 robbery of a worker at the Shed Liquor Centre using a Dan Wesson eight-inch BB gun revolver. He is due back in court on September 24. Police are still looking for another man thought to have been involved.