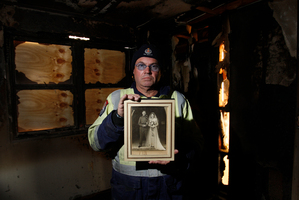 The day Pearl Sanger found out her home of 30 years had been torched by thieves she sobbed her heart out.
Yesterday she was teary-eyed again. But this time she was overwhelmed by the show of community support.
The 92-year-old was met by the team of builders who have transformed her house into a modern home and representatives from Vine Appliances who donated and installed a heat pump.
Builder Dave Roberts was only too happy to organise the clean-up and five weeks of rebuilding, painting, carpeting and wall papering.
That comes on top of an amazing community response to Pearl's plight just over seven weeks ago.
The Northern Advocate coordinated an appeal for Pearl, and the community responded immediately.
Ann McAteer and her staff at Radius Rimu Park were quick to help with a few weeks' free accommodation before insurance covered the rest of her stay.
Advocate readers were also quick to respond with cash donations and plenty of crime books - Pearl's favourite.
Northern Advocate editor Craig Cooper said it was a unique appeal.
"It struck a real chord - just when donations would quieten down, something else would pop up. But it wasn't about the money - it was about public affection for someone in trouble, that many of us could relate to."
There was even a donation from Australia. Local book shops donated vouchers and publishing companies sent through books to be passed on.
A Whangarei man with connections with crime writing legend (and Pearl's favourite author) Lee Child made a few calls and a personally signed copy of his latest book was delivered to Pearl.
Furniture City donated a comfortable lounge chair to replace the one that was damaged by smoke.
And the latest donation came from members of the Facebook group, Pay It Forward, who gathered items through the social media site. They donated books, cosmetics and ornamental items for Pearl's return home.
Nephew Ray Broad said he had been overwhelmed by the community response and said the process had been made easier thanks to Tower Insurance.
"I'm still trying to get over how people have really wanted to help. So many, many thanks for restoring her faith in humanity," Mr Broad said.
He was impressed with the great work done at the house.
A few family photos - including one of her late husband William - were back in the lounge but other historic pictures were yet to be reframed.
Mr Broad was sure Pearl would settle into her home, especially with a new bookshelf full of crime novels.