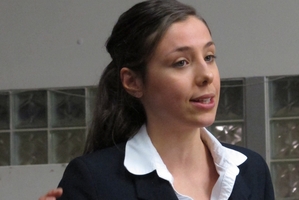 A Kerikeri teen is heading to the finals of the 2013 Lions Young Ambassador Award in Auckland next month after winning the district competition.
Samantha Scahill, 17, took home $1000 to put towards her studies after winning the competition at the Kerikeri RSA on September 3. The deputy head girl at Kerikeri High hopes to study medicine at Auckland next year.
The annual competition is open to high school students from Kawakawa and Opononi north and is judged on a one-on-one interview by a panel of judges (40 points), their CV (30 points) and a five-minute speech on a topic of their choice (30 points). This year's judging panel consisted of Taipa Area School principal Patariki Toi, Far North District councillor Sally Macauley and public relations professional Peter Heath.
Samantha faced tough competition from Vandana Bandi (Abundant Life School in Kaitaia), Sarah Clifford (Okaihau College), Jesse Prendergast (Kerikeri High School), Anaria Rakete-Tane (Opononi Area School) and George Wilcox (Bay of Islands College). Jesse placed second and Sarah third.
Topics tackled by the contestants ranged from reducing youth crime by raising the low standards set for young people in Kaitaia (Vandana) and the advantages of growing up in a small town (Jesse) to society's changing perceptions of women (Anaria). Samantha appealed for a rational debate on mining in Northland, saying views on the topic had become so polarised that sensible decisions balancing economic benefits with the environmental risks had become all but impossible.
George touched on his battle with a rare and serious medical condition, neurofibromatosis, while Sarah discussed the ever-accelerating pace of technological change.
Samantha said she was impressed by the other competitors' speeches and "blown away" by her win.
"It's a genuine reminder that youth up here are doing a lot of good stuff," she said. Samantha took part in the Youth Parliament in Wellington earlier this year after winning an essay competition.
Mrs Macauley said the competition showed how talented, and busy, Far North youth were. With so many extra-curricular activities she wondered how they found time to study.
Organiser Maria Goodhew, of Opononi and Districts Lions, said previous Far North winners Joe Vaughan Rakete-Tane and Jonty Hooson had gone on to win the finals. This year's finals will be held next month in Auckland.