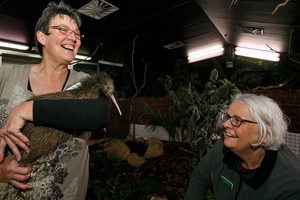 Nouveau the kiwi touched down at his new home at Kiwi North after travelling 385km - a long journey for the flightless bird.
The young bird was brought north from his home at Rainbow Springs Kiwi Wildlife Park in Rotorua by volunteer Alison Anderson.
The new addition to Kiwi North is a handsome smoky grey colour, and Ms Anderson told staff at Kiwi North that he had been a great display bird for Rainbow Springs.
He will celebrate his first birthday in nine days' time, and may be in for the surprise of his life.
Female kiwi Kakari is due to arrive from Orana Wildlife Park in Christchurch about the same time, and everyone hopes the two will get along very well.
Staff at Kiwi North have been busy preparing the habitat for the two new kiwi, and have built a divide to keep the birds separate until they get to know each other.
Ms Anderson and the Kiwi North staff were very pleased with the way Nouveau transitioned in to his new home.
Kiwi North husbandry officer Irene Hamlin was expecting more of a struggle getting Nouveau settled in his home but was pleased with his docile approach.
"He seems very happy in there," she said.
The bird was comfortable being held by Ms Hamlin as he had a good look around his new environment.
She released him in to his burrow where he had a good sniff around to familiarise himself with the place.
Nouveau will be left to settle in, with Ms Hamlin checking his weight and that he is eating well every day or two.
The pair are expected to call Kiwi North home for about three years.
Kiwi North participates in a national captive programme for 110 captive brown kiwi.
The pair were chosen to be put together at Kiwi North based on their genetics.