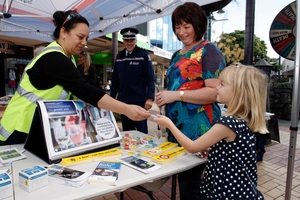 Northland's top traffic cop was part of a team out on the beat driving home the road-safety message.
Inspector Murray Hodson was joined by representatives from ACC, the Northland Regional Council, Roadsafe Northland and Whangarei District Council at Cameron St Mall yesterday, handing out information and promotional items with the main message of "safer journeys", Mr Hodson said.
"Essentially, the mission is a safe road system, increasingly free of serious injury and fatal crashes."
He said the operation, called Fire Alarm, had two aspects - the key of which was prevention.
"All the key partners here today have an active interest in preventing fatal crashes on Northland roads.
"We are all on the same playing field, in that we want less victims on our roads," he said.
The second aspect was enforcement. "You do have to carry out enforcement to make sure that the message gets through."
ACC injury-prevention consultant Sandra Heihei said it was about "reducing the speed and encouraging our drivers to drive to the conditions".
The ACC saw a lot of the results of people not following those road-safety messages, she said.
"We've already had 10 fatalities in Northland this year, and six or seven are related to speed.
"We all have to take some form of responsibility to reduce our road toll," Ms Heihei said.
ACC's Rachel Woodworth said this included getting the message across to motorcyclists, with ACC's new Ride For Ever website.
"We are trying to promote return-to-riding lessons for motorcyclists, as well as 'being seen'," she said.
Northland Regional Council's Road Safe Northland co-ordinator, Gillian Archer, said other driving issues in the district included young drivers, crashes on bends, and driving under the influence of alcohol.
"Alcohol-related crashes are probably one of our biggest issues in Northland," she said.
Another key problem was people not wearing seat-belts, she said. "And that one little action can make such a difference."