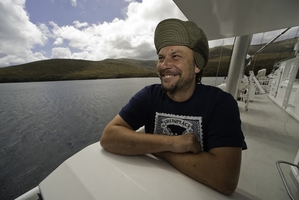 The chair of the Far North branch of Forest and Bird will give a free public talk in Waipapa this Friday about the unique plants and wildlife of New Zealand's sub-Antarctic islands.
Dean Baigent-Mercer, of Otangaroa, north of Kaeo, was on board the new Greenpeace flagship Rainbow Warrior last summer when it made its inaugural visit to New Zealand, starting at Matauri Bay, resting place of the vessel bombed by French agents in 1985.
The 55m sailing ship then sailed on to a number of New Zealand ports and the intriguing sub-Antarctic islands, home to many unique plants and wildlife - including some species that have long since disappeared from the mainland.
Mr Baigent-Mercer will show spectacular photos from the islands, explain how they are threatened by deep-sea oil drilling, and show how that threat is linked to Northland.
The talk starts at 7.15pm on Friday, August 23, at Waipapa Hall (on Waipapa Loop Rd opposite the Pioneer Tavern).