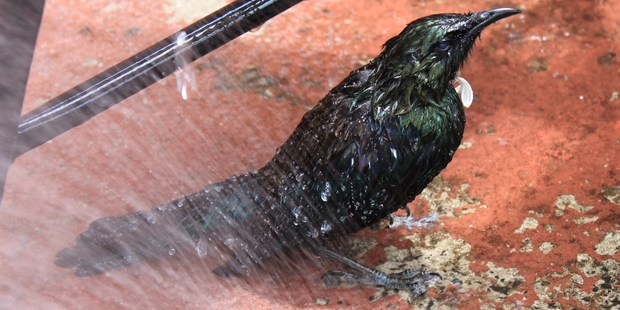 The recent spell of hot weather has proved too much for some of Northland's feathered inhabitants, forcing a Kaikohe man to use a garden hose to save a tui and sparrow from overheating.
Bruce Crowther was greatly surprised on Sunday when his wife alerted him to the birds on his concrete deck. Tui in particular are rarely seen on the ground, and just as rarely let people get close.
The birds' beaks were gaping and their feathers fluffed up in an apparent bid to cool down.
"The sparrow looked as if he had fallen out of the sky. The tui was standing but its beak was gaping and it was panting. They just couldn't fly.
"I'm thinking their body temperature was too high, a bit like heat stroke in a human," Mr Crowther said.
"The birds looked desperate. I thought, desperate times, desperate measures ... so I grabbed the hose and gave them the fire brigade treatment. As soon as the water hit them they perked up," he said.
"Twenty minutes later the tui flew away. The sparrow stayed until the puddle evaporated around his feet, then he buggered off too."
Mr Crowther put the heat stress down to the lack of puddles and morning dew. Tui had moved into suburbia after losing much of their natural habitat, but missed the shade of the bush.
Robert Webb, of Whangarei's Native Bird Recovery Centre, said finding tui in trouble at this time of year was not uncommon.
"When it's hot, very dry and the flax flowers are out, you can guarantee we'll get a run of tuis," he said.
As well as being dehydrated sometimes the birds became disoriented after gorging themselves on nectar - much as kukupa (native pigeons) struggled to fly after over-indulging in ripe fruit. They could then fly into windows or become vulnerable to cats.
Just yesterday a Glenbervie woman brought in an ailing tui she had found on the ground, Mr Webb said.
Another risk was that puddles could turn stagnant, causing birds that drank from them to develop botulism.
Mr Webb said it was a good idea to put out a water dish for birds, keeping it out of reach of cats.
Northland's drought of 2009-10 sparked a flurry of daytime kiwi sightings as the birds were apparently unable to find enough food at night so continued foraging into daylight hours. Being out in the heat of the day further increased their risk of dehydration.
If you find a sick tui Mr Webb advises placing it in a box lined with soft tissues and keeping it somewhere cool and quiet for a few hours. A dehydrated bird can be fed with water on your finger, not with a syringe down its throat which is liable to put water into its lungs. Call the bird recovery centre for advice on (09) 438 1457.