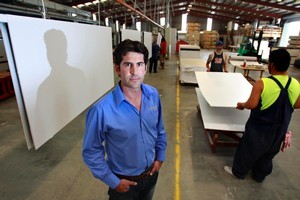 An Auckland firm believes its patented coating technique can help to make housing more affordable
Issues of social equity aren't always top of the mind for the business community. When a business leader does put his or her head above the parapet, it is often a sign that a social issue is urgent and has reached the mainstream.
Housing affordability, for instance, is now of such importance that it is one of two main focuses of inquiry for the Productivity Commission (the other being transport infrastructure).
The voices of some businesspeople are now heard alongside social commentators, calling for changes to make housing more affordable.
"The Auckland market is going to be a train wreck in the next five years if we don't sort it out," argues Kyle True, general manager of Climate Surfaces, a company that has developed patent-protected technology to powder-coat plywood, fibreboard and plasterboard.
The technology is used to make products such as pre-finished panels for furniture-making, and coated plasterboard, which speeds up construction and reduces the mess involved in finishing and painting conventional wall linings.
True may have a vested interest in reducing impediments to construction, such as the Resource Management Act, but there is no doubting his passion when he talks about home affordability.
"I came back from Melbourne and I was astounded to have to get a 95 per cent loan and astounded at what you get for it," True remembers. "[We're] in a relationship where two of us are making money and I don't understand how the rest of Auckland is coping."
He points to the workforce at Climate Surfaces' South Auckland factory, mainly men aged under 30, who are living with their parents in homes sometimes housing up to 10 people.
"I think it's a huge issue and something has to be done. If we can build houses quicker - and that's our premise - then you save six to eight weeks of interest payments and costs and all those things associated with it."
While construction is in the doldrums, Climate Surfaces has bucked the trend, reporting double-digit revenue growth for the past 18 months.
Much of that growth is thanks to the company's expansion into Australia, where it has established a direct sales presence in Melbourne servicing cliewnts including Target, Kmart and the Australian Taxation Office.
Exports now account for more than 30 per cent of sales and True says he expects to double sales in Australia again next year.
The growth is the result of a $9 million investment in research, development and new plants - "we basically built two plants in four years to get the technology right," says True.
Climate Surfaces burned money for eight years but, he says, its shareholders - private equity company Direct Capital and Stephen Tindall's K1W1 Investment Group - remain supportive.
"Bill Kermode from Direct Capital used to go on all the time that we'd be a 10-year overnight success," he says. The company celebrated the decade mark last month.
Success took that long because the building industry is inherently conservative, True contends, and takes time to accept new products. After all, the sector buys in bulk and powder-coated board was an unproven product.
Metal is easy to powder-coat because it's conductive and can stand the heat required during the painting process.
Powder-coating boards "causes all sorts of problems: it bends, it sweats it, it releases all the volatiles in there so that it bleeds through the coating and if we don't [impart] enough energy into the paint film, we lose all of the properties and the aesthetics of it", explains True.
"It was a fine balance in getting the powder on to the [board product] in a consistent fashion and getting enough energy into the paint - but not too much into the board - to get a product that looks good and works. That's where our art is."
The trick is to use the moisture of the board to create conductivity (upon which powder-coating depends), while medium-wave infrared is the way to impart sufficient energy into the coat, without penetrating deep into the board.
All the benefits of powder-coating - reduced cost, more efficiency and relative eco-friendliness - are apparent in the board, which is double-coated because of its porous nature.
It is also ideal for use in prefabricated housing and, True argues, if New Zealanders are serious about reducing the cost of housing, the industry and public need to embrace standardisation.
"It's about 30 per cent cheaper than an architecturally designed house," he says. "Keep going the way we're going, then unless you inherit or have done extremely well, you're going to keep moving further south to the Waikato."