Making mistakes is the latest management fad. But will it work in politics?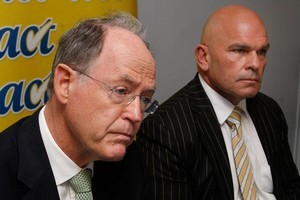 Rodney Hide's disappearing Act wasn't quite, as Oscar Wilde had it, another instance of life imitating art more than art imitates life - but it was pretty close. In March I wrote about my keen wish for Hide to go quietly into the night; last Thursday he was gone.
I should write premature obituaries more often.
After all, journalism has prior form for this kind of supernatural commentary. A colleague of mine once killed off Douglas Lilburn by mistakenly referring to the "late" composer in an article.
Lilburn was still alive and a correction noting this fact was duly published. The next day Lilburn, an artist noted for his professional timing, promptly chose to shuffle off this mortal coil. The editor made my associate write the real obituary, a rare instance of art imitating life.
Of course, Hide hasn't yet completely exited stage left; he's still waving and smiling as if hopeful of a new role to play. Nor has Hide yet gone quietly, but retaining his ministerial posts until the election appears to be the price of silence.
It will be fascinating to see whether Brash's new Act will change the political landscape Hide helped forge. As other commentators have noted, the party will at last provide a credible voice for a significant business constituency that has hitherto been denied one.
That does not guarantee electoral success, of course. But if the latest measure of business achievement is any guide, then the party should be an electoral triumph.
I refer to the new cult of failure, which, claim its adherents, is the best determinant of who the future winners will be.
It is only through failure, opines the Harvard Business Review, that true success can be achieved. "Fail well, fail often," trumpeted the Economist magazine in its recent coverage of the new trend.
It's an appealing ethos and certainly more rational than some of the mumbo-jumbo that passes for business advice these days. The road to hell is paved not with good intentions, but millions upon millions of business self-help books.
The failure doctrine is attractive because business history is littered with losers who eventually succeeded. The Economist points to Thomas Edison, who slogged through 9000 failed experiments before having a eureka moment and devising the light bulb.
In sport, the principle of failure first, success later is even clearer. Champion cricketers Sir Richard Hadlee, Matthew Hayden and Ricky Ponting struggled in their initial forays in test cricket; all three were dropped early in their careers. Yet they persevered and the trio are now rightly regarded as among the sport's true greats.
Failure can be the making of some men. Brash and his Epsom sidekick John Banks will certainly be encouraged. By any yardstick, the pair boast prior form in this important measure. Brash failed to get National over the line as leader; in between mayoral successes, Banks lost to Dick Hubbard and was then trounced in the contest for the Super City.
If a checklist of failure really is the true yardstick of success, then this pair of losers should be a shoo-in. All they need to do is learn from their previous mistakes.
But that always struck me as the tricky part of this new success fad - people will struggle to learn if they refuse to admit mistakes in the first place.
Brash and Banks are typical politicians in this regard.
Even the doctrine of failure has its limits. In politics there is a definite time limit on public failure; if they do lose again, it's unlikely the electorate will give them another chance to prove there's something right about getting things wrong.