Piha has much to offer besides Lion Rock and wild surf and, as it's only 40km from central Auckland, it's an ideal location for a long weekend away, writes Rachel Grunwell.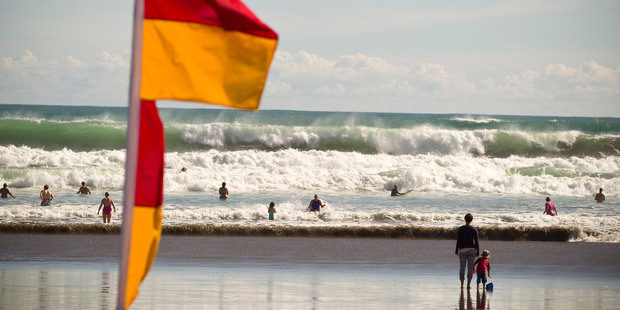 Piha's black iron-sand beach and wild and crashing surf can greedily hog visitors' attention when the sun is shining. But for a change, go for a walk nearby to Kitekite Falls in the Waitakere Ranges.
It's "cool" because it's a neat spot. But it's cooler in temperature too because the walk is under a canopy of trees that's lush and green. The air here is invigorating, better for you than a cup of green tea.
The walk starts at the end of Glen Esk Rd and follows Glen Esk stream. A giant kauri tree stump near the beginning is like a tiny house for kids to play in - they can walk inside it and it's a great spot for a picture. My 8-year-old, Zach, reckons it could be a home for "hobbits".
There are spray bottles on a bench where signs ask you to spray your shoes to blast a tiny lethal pathogen that is capable of killing kauri. The pathogen is smaller than a pin head, but it's lethal at murdering our majestic kauri trees. The stroll to the falls is on a well-signposted walkway so you can't get lost. And all the walkways, stairs03-11-2013 05:30:00 and bridges along the way are beautifully made.
Some stairs twist and turn in a spiral-like pattern and are, really, like art.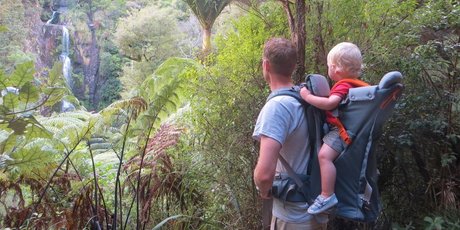 You hear the water gush before you reach the falls and then you can see it from between the trees just after you take in stunning valley views out over tree tops. There's also a giant macrocarpa bench seat to sit on nearby and admire the view. My 6-year-old Lachie wants to linger here, being the master of the table. But only moments away, via steep steps, are the stunning falls.
I had read that the walk takes about 45 minutes to reach the falls, but we do it in 30 minutes - and that's at Lachie's pace.
The waterfall has multi-level drops, and tumbles over 40m, and the water lands into a large lake-like pool. We chat to a group of American tourists who are brave enough to go for a fresh-water dip. They jump in, and then quickly out again, and yelp "you can't hang about in there!"
Lachie loves swishing his hands in the water and becomes a frog leaping about on the rocks while the rest of us soak up the sight of the falls and eat a picnic.
The place is also called Kitakita Falls in some material, but Rewi Spraggon, an elder from the local iwi, Te Kawerau A Maki, reckons the place's true name is "KeteKete". This refers to a click of the tongue that signalled when an ambush was about to happen more than three centuries ago, he says.
The Glen Esk stream was named apparently by a doctor who emigrated to New Zealand who bought the land and felt the area reminded him of Scotland. In a nutshell, Glen means valley (Gaelic) and Esk means water (Celtic).
I love that this track takes just 60 minutes all up - it's short and sweet. We'll definitely return. Lachie hopes to spy a hobbit in the giant kauri stump next time ...
But it's not the only walking bush track around these parts. There are many, including the Hillary Trail (named after Sir Edmund Hillary), a four-day, 75km hike that starts in Titirangi and ends at Muriwai.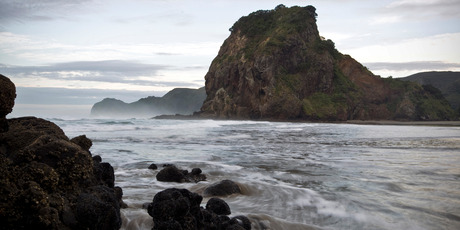 Meanwhile, other things worth doing at Piha include surfing, fishing, swimming (always swim between the flags though because there can be rips), or check out the area's beautiful iconic landmark, Lion Rock. You can walk about half way up to sit up on the stone seat and admire a beautiful Maori carving and the view, but be careful to stay on the track.
Local Sandra Coney also recommends driving five minutes to the remnants of the Piha Radar Station at the end of Log Race Rd.
It's on the highest cliffs in the region (stunning views) and during World War II it was used to give early warning of any enemy war craft.
I love to have a nosey at the Piha baches. Some are rustic and others are architectural masterpieces.
Just make sure you take the family to this pretty, out-of-the-way place to go on adventures or just simply sink your your feet into that black sand and take in sea-air with every breath. It's magic.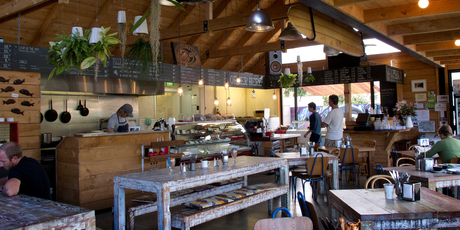 Travel tips
Piha Beach is about 45-minutes' drive from Auckland city, heading out off the northwestern motorway. The Kitekite Falls track is at the end of Glen Esk Rd. Take an extra layer - it's cool in the bush - plus a picnic, togs, sunscreen and towel.
There are a few options about for kai, including The Piha Cafe on Seaview Rd. Coffee is recommended (by a local I know) at The Piha Store. Or if you want to follow a Kiwi tradition, order fish and chips or iceblocks from Blair's on the Beach, next to the surf club.
If you want a quiet escape, bear in mind that Piha gets very busy during the Christmas season.
A website full of great info on the area is piha.co.nz and includes lots of walks, things to do, places to eat and stuff that's happening in this community. It's written by Sandra Coney, a local and a member of the Waitakere Ranges Local Board.
She wonderfully sums up Piha on this website: "The Experience of Piha should be kept simple: enjoy nature at its wildest and most awe-inspiring. Humans can't improve it".
Cheeky long weekend
Save your pennies: Enjoy the journey with Caltex. Use your AA membership card or pick up a free AA Smartfuel card (from AA or Caltex) and start saving on fuel. This rewards programme lets you accumulate fuel discounts as you shop. Swipe your free AA Smartfuel card or AA membership card at participating Caltex sites and save 6 cents per litre when you spend $40 or more on petrol or diesel. Terms and conditions apply.
Getting around: Spend Saturday with your toes in the black sand, Sunday enjoying the views from the famous Lion Rock and Monday exploring the long way home through the Waitakere Ranges. With so much to discover in Piha, you'll need an extra day off. Take it all in with a Budget rental car (0800 BUDGET), and take advantage of our long weekend deal. Book a Budget rental today and get 1 day off a 3+ day weekend. Simply quote the coupon number TPNZ065 at the time of reservation.
Plan your holiday: Celebrate the warmer weather by heading to GoBook to plan your next Cheeky Long Weekend away. GoBook offers the best bits of New Zealand right at your fingertips. Browse and compare activities, attractions and adventures by hundreds of reputable businesses all over New Zealand. Book a time that suits you, enjoy instant email booking confirmation, then rest easy knowing your dream holiday is sorted. And with loads of options to suit every budget, GoBook has something for everyone.
Getting there: Jetstar operates direct flights from Auckland to Wellington, Christchurch, Dunedin and Queenstown, so getting away for a cheeky weekend is easy.