Address: 18 Jervois Rd, Herne Bay
Ph: (09) 360 0714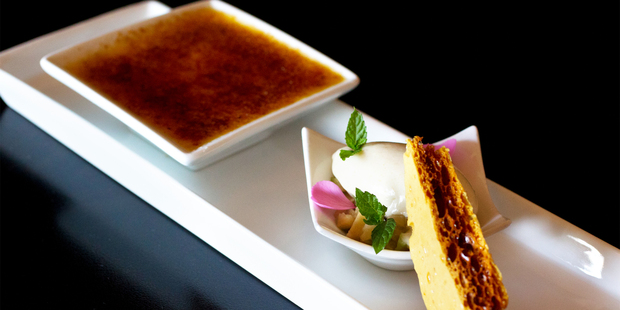 Opportunities for fine dining are limited in Stanley, the capital of the Falkland Islands. With a total population of about 5500, half of whom are British Forces, this is perhaps understandable.
The local hotel apparently offers a nice lunch and dinner, but the sole cafe closed a year or so ago, and sandwich bars are the only other option.
Thus, as we were happily hosting a dear friend from this far-flung outpost of British significance and Argentinian interest, the least we could do was feed the poor woman.
Pure had been recommended, even though an early review had slammed it for poor service. It certainly seemed worth another try.
The restaurant is very small (although there is a function room upstairs), just six or seven tables, with banquettes maximising the available space. White walls and interesting prints allow it to be engaging without inducing claustrophobia.
As we were dining early, we had a choice of tables, but this option did not apply to late arrivals, and the place quickly filled.
The menu is very short, just five entrees and five mains, but reportedly it changes often, so regulars will not be bored. There is also a set menu, for those unable or unwilling to make decisions, and this is what Bill chose.
His spicy prawn salad was excellent, with sufficient flavour to enhance but not overpower the seafood. His main of beef cheeks, now de rigueur in bistros, came with mushrooms and polenta. Bill found the texture of the meat interesting, but it was so well cooked and meltingly tender that he had no complaints at all. His dessert of meringues with berry compote was equally well received.
Jackie, whose eyes sparkled at even limited choices, loved the smoked duck breast entree, and revelled in the liver parfait. Her main of crispy-skinned snapper was a real treat as, surprisingly, fresh fish is rare in the Falklands. And her joy at finding a properly made creme brulee with appropriately crunchy top, and a creamy citrusy side knew no bounds.
My entree of Serano ham, with whipped goat's cheese and fresh figs, was delightful, simple and elegant. I needed little thought in my choice of main - tender juicy rounds of pork fillet with black pudding, savoy cabbage (under-utilised and under-appreciated, in my opinion) and rosti. What could have been stodgy and ordinary was well-judged and delicious.
Marleen, our German waitress, was of the highest calibre. The service was watchful but unobtrusive, friendly and knowledgeable. Would that these were more common attributes in wait staff.
Pure has been open since 2008, and chef Stefan Loetscher of the New Zealand School of Food and Wine has more than proved his capabilities. Long may it remain.
Rating out of 10
Food: 9
Service: 9
Value: 8
Ambience: 8

Our meal: $254.50 for three starters, three mains, two desserts, a beer and a bottle of wine plus three brandies.
Wine list: An eclectic mix from around the world, with many I have never seen on a menu before. Our Clos Marguerite was excellent, as expected, and Bill was very happy with his Domain Road merlot. There is an adequate selection by the glass.
Verdict: Beautiful food, elegantly and expertly presented, as you'd expect from a cookery tutor, and unobtrusive but attentive service.