Between bites of Kawhia kai, pause to appreciate the small-town vibe of this coastal gem.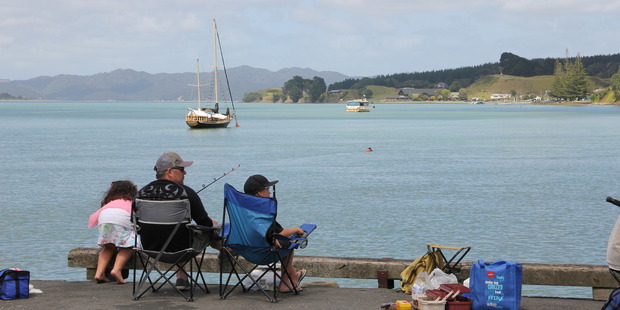 Fishing off Kawhia Wharf. Photo / Philippe Dierick
Saturday afternoon and Kawhia wharf is a hive of activity as children jump off into the water. Adults cast an eye over their offspring while also casting their fishing lines and socialising.
Along from the wharf is the Kawhia Museum, chronicling the small town's history from the arrival of Tainui by waka through to European settlement.
Next to the museum is the grassy Omiti Reserve, where you'll find the 10th Kawhia Kai Festival, on next Saturday (February 8th). It's the one day of the year the sleepy seaside atmosphere is transformed into a hub of flavours, smells and sights.
Today, festival organisers Hinga and Lloyd Whiu are dishing up a few delicacies to give us a preview taste of what the festival menu will offer. The couple, with other Kawhia residents, started the annual event to lure visitors off the main tourist routes, helping the town grow and prosper.
This year, about 25 stalls will cater for up to 7000 people. Not bad for a town with a permanent population of around 440.
"Seven thousand to 8000 people is nice," says Lloyd.
"It peaked at 11,000 one year. Normally you never experience a traffic jam in Kawhia, but we did that day!"
The festival is modelled on a traditional Maori village with a carved waharoa (gateway), and the site is surrounded by manuka fences.
The smoke- and alcohol-free event is especially popular with overseas tourists, recognised by its placement on Lonely Planet's list of top 10 indigenous events in New Zealand.
As well as the hangi, the traditional and contemporary Maori kai includes toroi (marinated mussels and puha), creamed paua and kina, inanga (whitebait patties), kanga wai/pirau (fermented corn), puha and pork spring rolls, pawhara (smoked fish and eel) as well as the Waikato delicacy, koki (shark liver pate).
There's also bands, kapa haka, Maori arts and crafts and ta moko demonstrations, and health and education stalls.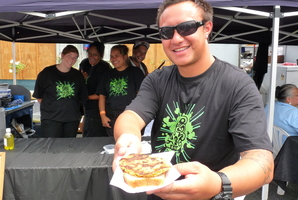 Lloyd and Hinga explain part of the reason for the festival is learn to about the traditional kai that Maori were brought up with. Hinga's mum, Mere Gilmore, explains the preparation that goes into the shark's liver pate and fermenting the corn, both popular with the older generations on the marae. Today we're also trying the fritters made from Aotea Harbour mussels, just over the hill. These go down a treat.
The shark's liver has a similar taste to anchovies, then rounds up to a smoother, fattier taste.
Lloyd and Hinga watch as we sample the fermented corn. They suggest adding cream and sugar, but I decide to try the delicacy "naked".
Oh, my, I can see why it's described as an acquired taste ... I'm happy to leave my share for the older people from the marae who queue for it.
If you're staying on in Kawhia, try the cafes and the fish and chip shop - we thought the chippie one of Waikato's best. If you've brought or can borrow a kayak from your accommodation, you can paddle out on the harbour.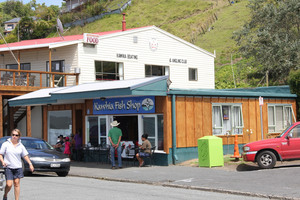 We carry on over the hill to the hot-water Ocean Beach. My teenagers think it's well worth the climb over the dunes and the effort required to dig out your "spa pool" in the sand (luckily we'd been warned to take a spade.)
Laid-back Kawhia, with its million-dollar views, is just the spot if you're wanting a relaxed weekend. But perhaps some visitors just don't get what it's all about.
If you have travelled to Kawhia in your flashy Porsche and you notice a local crossing the road, please don't honk, honk, honk your loud horn and yell out "slut".
We watch this happen to one of the cafe waitresses. She looks shaken by the imported road rage and, really, it's just not the way you do things in this easy-going small town.
Need to know ...
• Kawhia Kai is on February 8, 9am to 5pm. Adults - $10, children under 12 - $2.
Other activities:
• Take your fishing rod and try your luck off the wharf.
• Visit the Arty Tarts, Front Room and Nikau Room art galleries, or the Kawhia Museum.
• Play a round at Kawhia Golf Course. Green fees - $10.
• Eat at The Blue Chook Inn, Kawhia Boating and Angling Club, Orange Dinghy Cafe, or Annie's cafe and restaurant.
Donna McIntyre was assisted by Hamilton and Waikato Tourism and stayed at the Kawhia Beachside S-cape & Harbourview Cottages.