There's no doubt about it - it's freezing in Invercargill in June. But as Shandelle Battersby discovers, it's lovely, too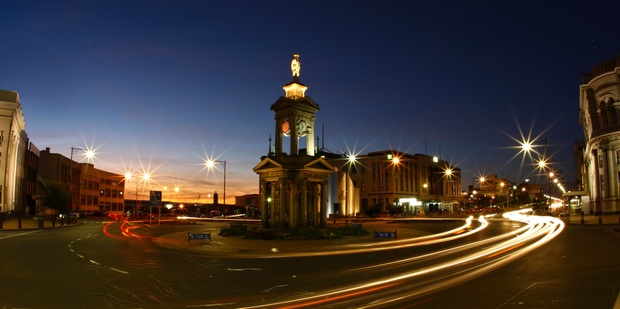 It was almost a relief - almost - to learn I wasn't the only one struggling with the temperature in Invercargill during a weekend visit in June. When even Southlanders are complaining about the cold (and shop assistants are wearing slippers, gloves and huddling in front of heaters), you know things are pretty bad.
It turned out that my first trip to this quaint town at the very bottom of the South Island coincided with one of last year's coldest days, with an overnight low of -5.4C which dragged itself to a bone-chilling 5.8C mid-afternoon. But no matter, I'd come armed with every woollen item of clothing I could lay my hands on, and was quite enjoying the novelty of layering up before venturing outdoors.
Having grown up in two of the most ridiculous places in the North Island - one famous for gumboot-throwing*, the other for its bad bovine puns** - I feel like I've had more than my fair share of small-town New Zealand. (When I'm in one and people ask where I'm from, I mutter "Auckland", then quickly add "but I'm really from ...")
But that's not to say I don't appreciate visiting one - I love quirky architecture, historic churches, gorgeous countryside and classic Kiwi characters. And many parts of Southland seem unchanged since documentary photographer Robin Morrison captured it so well on film in the 70s and 80s, making a visit there feel like being caught in a time warp.
A friend summed up Invercargill, the area's largest town with a population of 52,000, in just a few words: "Wide streets. Really cold. Heaps of bogans. Be careful out there," he counselled.
Never has a definition been so apt. Wide streets indeed - from the air the 40m-wide roads could almost pass for landing strips. Cold - you bet, see above. And bogans, bogans everywhere: in souped-up saloons doing laps up and down Dee and Tay streets, with coiffured mullets in the pubs and restaurants, and shouting and yahooing in tracksuit pants and polar fleece outside the 24-hour fast-food joint across the street at 3.30am. Hell, if I lived here I'd go out in tracksuit pants and polar fleece, too.
But Invercargill is also home to some remarkable Art Deco heritage buildings and some lovely parks and gardens. The biggest at 80ha is historic Queens Park (1857), home to the Southland Museum and Art Gallery - the Southern Hemisphere's largest pyramid structure and Invercargill's version of the Louvre.
The museum also houses the largest public tuatara enclosure in the world, the oldest resident of which is Henry, at over 110 years of age.
Weirdly there are no powerlines anywhere - the town is one of the few places in the country with a fully underground electricity network, a long-running project finally completed last year for reasons of reliability, safety and aesthetics.
Don't trust anything anyone tells you in Bluff, joked a work colleague about the tiny nearby port town, a half-hour drive from Invercargill.
Once the centre of a major whaling and sealing industry, Bluff was settled in 1824, making it one of the oldest European towns in New Zealand. These days, of course, it is most famous for its wonderful oysters.
Alas, Fred and Myrtle Flutey's famous paua shell house is no longer there (you can find a replica of the lounge at the Canterbury Museum), but you can get your tourist on at the famous signpost at Stirling Pt at the end of SH1. There are a couple of other places worth visiting in the tiny town, including the Old Bluff Cemetery and the local maritime museum.
Saturday night marks a rugby test between the All Blacks and Ireland, and I head to Waxy O'Shea's back in Invercargill in search of somewhere with a bit of atmosphere. After paying Auckland prices for a beer, I settle in to watch the game and the people, both equally entertaining. As far as I can make out there seems to be only one Irishman in this Irish pub (maybe they'd all gone to Christchurch for the weekend) who shouts indecipherable things at the big screen and claps when Ireland score the first points, but then also cheers for New Zealand.
I'm confused, but maybe not as confused as he is. I decide he's either been drinking all afternoon or he's an Irish Southlander with split loyalties whose hybrid accent I just can't understand (the further south you go, the thicker the "rrrs"). There is also a trio of young girls in impossibly short and floaty summer dresses, light jackets, bare legs and strappy shoes. I'm sporting four layers of wool, plus boots, scarf, hat and gloves. My body temperature drops just looking at them - obviously they breed 'em tougher down here.
From Invercargill you have your pick of day-trip destinations. Gore is my first choice, about an hour's drive northeast, but when I ask a local if the journey is worthwhile, all he can offer is: "Ummm, there's a big trout?" Yeah, well I've already seen that on the telly, so I decide to go to see the big paua shell instead. The car is still coated with ice, even at 10am, and the cold has made itself at home in my bones.
Cranking up the heater, I head west instead to Riverton on SH99, and drive like a geriatric through the beautiful frost-coated countryside, keeping a careful eye out for icy corners.
Also known as Apirama, historic Riverton is a pretty port town with amazing architecture and great views towards Stewart Island. Though the tourist information describing it as the "Riviera of the south" is perhaps a little misleading, it does have a nice beach and 6ha of flax wetland reserve, and it's easy to see why it's a popular holiday spot in the summer months.
I slowly head back to Invercargill - there are still patches of ice everywhere, even in the brilliant sunshine at 1pm - with just a quick stop for gas. "How cold d'ya reckon it is today?" I asked the swaddled servo station attendant on the forecourt (yes, they still pump the petrol for you in Southland). "Well, it was -4C at 9am when I got to work and found the front door smashed in," she said. Turns out a drunk local had decided he needed a toilet stop at 6am and that's where the police found him three hours later - asleep on the bog. "We're on the news," the attendant told me proudly.
Honestly, you just can't make this stuff up ...
*Taihape
**Bulls
SURVIVING STEWART ISLAND
To be honest, unless you're interested in tramping, fishing or birdwatching, there's really not a hell of a lot to do on Stewart Island. But if you want to go for a look anyway, take a pile of books, pack warm clothes - even summer temperatures are cool - and prepare to get to know at least some of its 400 residents. Here are a few tips for having fun there:
Stay up late
At the height of summer it doesn't get dark until after 10.30pm, so it feels like time has stopped. This is a good excuse to factor in an afternoon nap, and also gives you the opportunity to walk to the end of the pier after dinner to see a dozen little blue penguins return from their day's fishing.
Eat until you pop
Sample as much bounty from the ocean as possible at the island's only pub, the South Sea Hotel. We ate here twice a day because the menu was just so good. Hot smoked salmon, blue cod, seafood chowder: this is one of the prime places in New Zealand to eat fresh fish, so make the most of it. The only other dining option is also excellent - the more upmarket Church Hill Restaurant, where fabulous lunches and dinners can be enjoyed with views over Halfmoon Bay.
Embrace the locals
There's no way really to avoid the curiosity of Stewart Islanders, who pride themselves on their friendliness. You just have to get in among the evening entertainment back at - you guessed it - the pub, whether that means belting out a few Pat Benatar numbers at karaoke on Thursdays, or signing up for quiz night on Sundays. Failing that, there's always the pool table or darts. After a couple of days you'll know the names of at least some of them, and possibly be fending off a few marriage proposals ...
Take a taxi
You don't have to be a bird nut to enjoy a few hours on Ulva Island, a pest-free sanctuary just a 10-minute water taxi ride from Golden Bay near Oban. Several walking tracks lead through the island's lush native flora, past friendly birds. Pack a picnic to enjoy at one of the lovely beaches. Or, if you have a bit more time, head over to Mason Bay on the west coast and stay in the DoC hut for a chance to see kiwi in the wild.