Elisabeth Easther travels back in time to a sleepy town at the end of the Waikato River.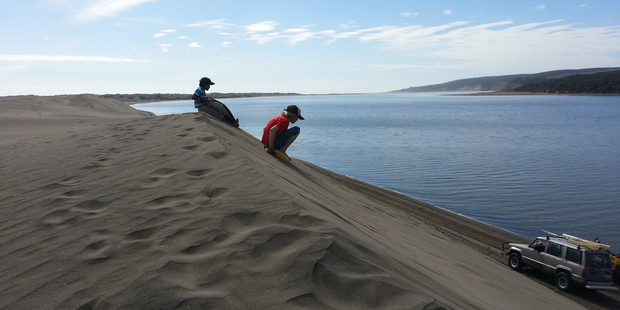 Driving the 90km from Auckland to Port Waikato, we were clearly a carload of townies, Lola exclaiming at every horse, the boys calling out "lamb" and "calf" at regular intervals and the mothers squealing with delight when faced with a field full of pigs.
Being the kind of people who shout out at every non-human in view, we knew we'd found the right place when we pulled into The Port Waikato Top Ten Holiday Park to see a woman taking her goat for a walk, on a leash, no less. The park-like grounds are immaculate, covering over three hectares there's loads of room to run around and explore, and the playground's even got a helicopter. But the crowning glory had to be the magnificent bouncing pillow, like a trampoline on steroids.
Aside from the high-tech jumping device, Port Waikato is a sleepy little town, where the Waikato River unloads itself into the sea. Its Sunset Beach earns its name every evening, when the sky transforms in a blaze of colour. We particularly liked the more ramshackle baches, unspoiled by developers, the limited shopping opportunities and the patchy cellphone coverage, a joy for those of us tired of technology ruling our lives.
But don't panic, if you're antsy without gadgets, the holiday park has wireless internet, and a computer room too.
The estuary, a short stroll from our well-appointed unit, is home to some of the finest sand dunes we've ever seen, and we saw whitebaiters dotted about the water's edge. The moon-like landscape is strangely mystical, and the driftwood of epic proportions. Whole days will melt away if you let them.
We couldn't spend all our time just pottering (actually we could have) but Nikau Caves sounded too good to be true so off we went one morning. About an hour's drive from the Port, through countryside bursting with spring, we discovered a world we never dreamed existed, right under our feet.
Keep your eyes peeled and you'll even see hills from The Lord of the Rings, the location for Weathertop Hollow.
Phil, former farmer turned caveman, has been taking people on tours of the caves for about 18 years and he reckons he's got one of the greatest jobs on (or under the) earth. Knowledgable and laid-back, he points out stalactites, stalagmites, glow worms and, to our squeamish delight, an eel gliding past his feet. Our fancies were particularly tickled by the little balls of fluff dotted about various nooks and crannies, like white candyfloss. But don't be fooled by the pretty puffs, it's a fungus that grows on rat poo.
Caving was an excellent adventure, the kids and the adults all agreed, and on a scale of one to 10 of scary, it's about a four, if you're not claustrophobic. Helmets and torches are provided, and you need a reasonable head for depths and tight-ish spaces, that's all.
We loved that Nikau Caves is a very homely tourist experience, unhurried. You don't exit through a gift shop, although there is an outstanding cafe beside a babbling brook, run by Anne whose gardens and gateaux are divine.
Back at the holiday park, camp leader Colin took us for a ride on his "mule"; a thrill he offers to visitors for a reasonable sum. Like a small open Jeep, the mule takes four passengers and is a great way to see the sights of the coast.
Round the magnificent surf beach we rode, over dunes teeming with bird life: dotterels nesting, worn-out godwits enjoying a well-deserved layover, black stilts and shags.
We even took a detour past Colin's place, so the kids could meet the bristly sow, due any day to have piglets. And if that wasn't enough, Colin and his right hand man Rob cooked us up a feed of whitebait fritters as fresh and tasty as any we'd ever had.
Port Waikato is like taking a trip back in time. You can swim, fish, go whitebaiting, hunt for pipi, surf, romp in the dunes, play tennis, eat fish and chips on the beach or just bounce till you drop. It feels like how holidays used to be.
PS Camp leader Colin called not long after we'd returned home to tell us Wild Pig had had her babies, and she was proving to be a wonderful mum.
WHERE TO STAY/GO
Top Ten Holiday Park: 115B Maunsell Rd, Port Waikato.
Nikau Caves: 1779 Waikaretu Valley Rd, Tuakau. 09 233 3005.