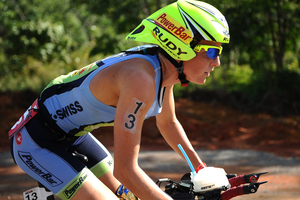 Wanaka mum Gina Crawford enjoyed another top-10 finish but it proved no fairytale debut for Bevan Docherty at the ironman world championships in Hawaii today.
After dropping back midway through the bike, Crawford fought her way through the field on the run, clocking 3hr 11min for the marathon for her ninth placing in 9:14.47.
The women's race was dominated by Australian Mirinda Carfrae who ran an extraordinary 2hr 50min marathon - the third time for all professionals male and female - on the way to a new course record 8:52.14.
Docherty, who was ninth after the 180km bike, was unable to make any ground during the run, dropping back before withdrawing at approximately the 30km mark.
Belgian Fred van Lierde claimed his first ironman world title ahead of Australian Luke McKenzie.
Of the other New Zealand professionals, Anna Ross (Auckland) and Britta Martin (Nelson) are yet to finish.
- APNZ