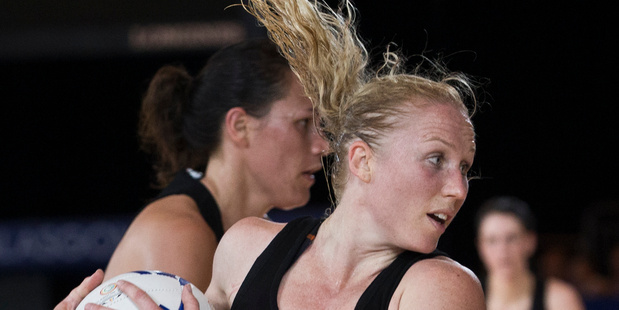 Injuries, illness, loss of form. Life is no roller coaster for sports teams.
The Silver Ferns are no different, especially on the injury front right now. But there are invariably certainties teams can bank on in difficult times.
In the Silver Ferns case one of them is that Laura Langman will just keep trucking along, making herself invaluable to her side and with every game restating that she'll be remembered as one of the great New Zealand players.
Her personality is such that she'd probably laugh that off. But consider the little midcourt dynamo has now stretched her unbroken run of internationals dating back to her debut in 2005 to 105. She has an indestructible quality about her.
Several years ago, an All Black medical person compared two particular players who occupied the same position. Both were established players in the touring squads of the time.
One, a city type, was forever on the physio's table, most days of the week, complaining of a niggle here, a bruise there; the other, a rugged, uncomplicated farming fellow, didn't darken that particular door for entire tours.
Langman's dedication to being fit ensures one less headache for her coaches.
In a world of head scratching and trying to figure out all manner of issues, one thing her Silver Ferns coaches have been able to ink in with total certainty: Langman will be on court, doing her thing, no fuss, just playing top class netball.
She's the sort of player who sometimes escapes the headlines. Shooters and desperate defenders grab those.
But Langman is the glue of the teams she plays in, the player who greases the wheels to keep things smoothly on track.
So who is this pocket rocket her teammates call Lauz? She's a farmer's daughter from near Pirongia.
She snowboards, surfs and used to ride horses, and is, if not a fitness freak, then someone for whom being physically fit matters.
Langman loves running long distances and enjoys a laugh, as witnessed by her being willing to dance Langman Style (geddit?) on television show The Crowd Goes Wild.
Her handwriting is evidently particularly neat, whatever you care to make of that, she has an accounting degree, is pursuing a masters and works at Deloittes.
Coach Wai Taumaunu has no doubts on the qualities she brings to the Silver Ferns table.
"It's her level-headedness in pressure situations. She's the one whose available [to take a pass]. She's the one playing the short ball, she's resilient and has the physical capabilities to be still running as hard as she was at the start of a game."
New Zealand play England tonight for a place in the gold medal Commonwealth Games match. Expect a full court press from England, who fancy their chances, and were grumpy for having let slip a cracking opportunity to topple Australia in pool play this week.
The Silver Ferns have fingers crossed for their two injured shooters, Cathrine Latu and Maria Tutaia. Taumaunu hinted yesterday that one might make it.
Leana de Bruin and captain Casey Kopua can boss the defensive circle as well as any combination around.
As for the midcourt, you figure it's in pretty safe hands.