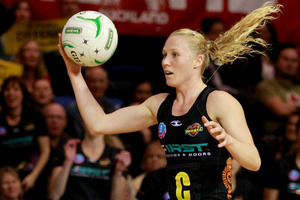 The Magic have won the first battle ahead of Sunday's transtasman league grand final, putting their foot down on attempts by competition management to dictate their travel arrangements.
The Magic will cross the Tasman on Saturday afternoon, arriving in Melbourne just 21 hours before their showdown with the Vixens. But league officials tried to force the Magic to alter their plans and fly to Melbourne early on Friday so they can attend a pre-match press conference.
While the Magic acknowledged their obligations to the league's sponsors and broadcasters to help promote the competition's biggest showpiece, they argued that should not be at the expense of their preparation.
The current thinking among many sports is that the trip to Australia is best left as late as possible to give the athletes more time in their home environment.
Already facing a tight turnaround following Monday night's gruelling extra time win over the Northern Mystics in the preliminary final, the Magic refused to compromise their build-up any further by travelling to Melbourne early.
It is not the first time the Magic have butted heads with officialdom during their finals campaign.
The Waikato/Bay of Plenty franchise were furious the league ignored their concerns over player welfare and scheduled their minor semifinal clash at Claudelands Arena - a court they believe is faulty.
The Vixens have had two weeks to rest up for Sunday's title decider after booking the direct route into the grand final, which captain Bianca Chatfield believes gives her side a "massive advantage" over their rivals for the crown.
"We had a hard practice match on Friday night but we've now got the week off to recover and prepare for the game so I think it's a massive advantage for us," Chatfield told AAP.
"It's a six-day turnaround for them as well as the travel."
Magic captain Laura Langman agreed having a week off to recharge and refresh was a big advantage for the Vixens - but not so big that they couldn't overcome.
She said the team had pulled up well following 74 minutes of netball on Monday night and was confident they would all be in "tip-top shape" come this weekend.
"We just need to be spot on with our recovery and hydration and make sure we tick all the boxes this week," said Langman.
The Magic have racked up more finals appearances than any other team in the league, with this weekend being their third chance on the big stage.
But while their record is impressive, they have yet to collect any titles - the ultimate measure on which teams are judged.
Langman is confident her side can learn from their previous failings and deliver New Zealand their first ANZ Championship crown.
"We need to take those experiences that we've had and put them to good use," she said.
"We're not going in there telling ourselves that it is just another game because it's not.
"It's the big game and we're amped for it."
Taking the lessons from previous campaigns, Magic coach Noeline Taurua has altered her side's build-up for this year's finals.
Taurua has tapered her side over the last couple of weeks to ensure they are in peak condition for the grand final.
"We've run really hard in the last four or five years, and if anything we've probably gone a bit over the top with our preparation," said Taurua.
"So we decided we have to come at it from a different way and taper off a little bit, with the focus being on quality rather than quantity."