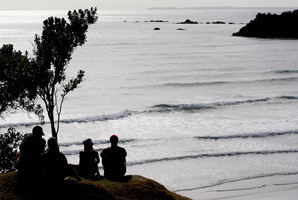 A tsunami advisory for New Zealand has been cancelled, seven hours after an 8-magnitude earthquake struck near the Solomon Islands today.
The Ministry of Civil Defence & Emergency Management (MCDEM) issued a statement at 9pm (NZT) saying the threat to most areas of New Zealand's coast had now passed.
However, a minor threat still remains on the West Coast from Taranaki to Milford Sound for the next 24 hours.
"Advice from GeoNet Tsunami Expert Panel is that there may be unusual water conditions e.g. local tidal surges and strong currents, especially during the early hours of Thursday 7 February. People should exercise caution and discretion before entering the water or going out in small boats,'' the statement said.
The epicentre of the powerful quake was 347km east of Kira Kira in the Solomon Islands. The US Geological Survey said the depth of the quake was deeper than initially thought. The quake struck at a depth of 33km, not 5.8km as first reported.
A wave of about one metre hit the Solomon Islands this afternoon, and four villages were destroyed in the Lata area of the Santa Cruz group of islands, Andrew Catford of World Vision told TVNZ.
Editor of the Solomon Star, Ofani Eremae, said reporters had spoken to people on the ground in remote areas and they confirmed big waves had hit their shores.
The quake was not felt in Honiara because they were so far away from the epicentre, he said.
Fiji issued a tsunami warning for the entire country and sirens sounded in Suva.
Residents said the city was blocked with traffic jams as people tried to move to higher ground.
The Fiji Ministry of Information issued a public warning during the afternoon telling all residents in low lying areas to evacuate to high ground for safety.
"Schools in coastal areas are advised to release students and to ensure their safety.
School authorities around the country must determine whether students are safe to remain in school - this is especially important for students that live in coastal areas,'' said the warning.
Waves - which had been due in Fiji from 5pm New Zealand time - had not appeared an hour later, and the Hawaii-based Pacific Tsunami Warning Centre cancelled its tsunami warning for Fiji.
A Nadi local said there had be no noticeable waves about the time the tsunami was forecast to hit.
"It's all clear now ... nothing at all.''
MCDEM initially warned boaties and swimmers to stay out of the sea due to possible tidal surges, and said people should not go sightseeing.
"The threat is judged to be low, likely to be undetectable except in enclosed bays that traditionally have abnormal current flows,'' an earlier statement said.
"In many locations the primary concern is likely to come from strong currents within harbours and surges in river mouths.''
An early MCDEM advisory covered North Cape, Auckland, Bay of Plenty, Waikato, Taranaki, Manawatu/Wanganui, Gisborne, Kapiti, Marlborough, Nelson/Tasman, West Coast, Milford, Dunedin and the Chatham Islands. That advisory was updated by the 9pm bulletin.
MCDEM said this afternoon that unusually strong currents and unpredictable water flows could be expected near the shore - which could be a threat to beach, harbour, estuary and small boat activities.
It said coastal inundation of land areas near the shore was not expected.
Historical data suggested wave activity was likely to be greatest on the central west coast, between Hokitika and New Plymouth, as well as the Far North.
The threat elsewhere was towards the lower end, with wave amplitudes of between 0.2m to 1m.
Modelling and historical data suggested the largest waves could arrive two to eight hours after the first potential waves, expected from about 6.05pm.
"The first arrivals are likely to be small,'' MCDEM said.
The Ministry advised people to listen to the radio and television for further assessment and updates, and follow instructions of their local Civil Defence authorities.
A Ministry of Foreign Affairs and Trade spokeswoman said the ministry was aware of the tsunami watch alert, which had been in place for much of the Pacific.
"Our Posts are monitoring the situation and the High Commission in the Solomon Islands has issued an advisory to New Zealanders registered with us as being there on [the] safetravel website.''
- additional reporting by NZ Herald
- APNZ