A lifelong fascination with Antarctic explorers compelled Sam Prebble to tell their stories through song, writes Lydia Jenkin.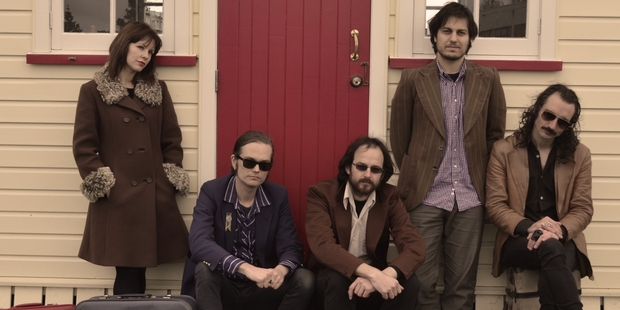 Stuck on ice floes in freezing temperatures, camped in a blizzard, or trying to survive the wrath of the tempestuous Southern Ocean as they attempted to go where no man had gone before - the first explorers of the Antarctic had some incredible tales to tell. Local musician Sam Prebble, who works under the name Bond Street Bridge, has now turned these stories into folk songs, sea shanties and ballads, and collated them into a live show and album that presents these adventures and explorations in a lively fashion.
"I've found it's quite hard to whittle this project down to a tagline I can put on a poster, but the latest one I've got is 'songs, stories, and images from the heroic age of Antarctic exploration'," he smiles.
The show began as a Fringe Festival performance earlier this year, but Prebble and his band had such a positive response that it's now being toured around the country multiple times and even performed, by request, in schools and rest homes.
"We got all these invitations from teachers going, 'I think my kids or students would enjoy this' and we went, 'Okay, maybe'. I did have some serious doubts, because it's a little esoteric, but it turns out they love it. Particularly the part where Percy Blackwater's gangrenous toes get amputated.
"And then we found out the retirement villages love the idea of it because it's their parents' generation and it has an emotional resonance for them."
Prebble has been curious about explorers and mountaineers since childhood, because of the influence of his avid mountaineer parents and some early sailing lessons.
"My dad used to be a mountain guide back in the day. And I learned to sail in a tiny wooden dinghy with a small mizzen, dipping lug rig in Wellington Harbour. So all these stories were passed down, stories of survival and exploration."
But it was driving a mobile library bus around West Auckland in the more recent past that really spurred his interest.
"Sitting on a library bus, you get a fair bit of time to read books, and Auckland Libraries has an amazing collection of Antarctic books, so it was really just seeing them, seeing the pictures and reading [Robert] Scott's diary, which captured me. When you consider that his diary was written at the end of each day after an exhausting march, in a tiny tent, pitched on ice, often in a howling gale, and of course he never got a chance to revise it because he died - it's amazing.
"It's incredibly lyrical and literate and moving, and so intelligent. From start to finish, it's a gripping narrative. It really grabbed me, his ease of expression, and it just made me want to read more."
So he delved into as many diaries and books as he could find, purely out of interest, with no set intentions of writing songs about them. But the words and themes eventually made their way into his songwriting sub-conscious anyway.
"Many of the men involved in these expeditions were widely read and educated, and enjoyed poetry, so there were all these strands of literature and history that come through their writing that makes it fun to pull together into a song."
As the songs were written, Prebble realised that with all the information and images available, a show that was based around tales of two particular expeditions - Scott's fateful Terra Nova Expedition from 1910-1912, and Ernest Shackleton's Imperial Trans-Antarctic Expedition from 1914-1917 - could be the perfect way to present the songs in context.
"There was a wealth of material to work with. They pre-sold a lot of the rights to pictures and diaries and interviews before they set off, in order to raise money, so they've got all this amazing documentation."
The interesting point is that even if you have limited interest in Antarctic explorers, the stories remain compelling and relatable because they're great tales of drama, tragedy and adventure, but also quite often about simple human relationships.
"One of the things I found quite a strong connection to is the domesticity of it. During Shackleton's expedition they spend 10 months on board the Endurance, locked in ice, essentially trying to live together. They're just trying to get by and it's quite strange for this bunch of Edwardian guys, all lumped together, so there's a lot of wrestling, hi-jinks, drinking. There's an amazing photo of them having mid-winter celebrations and they're dressed up, and there's a banjo, and some cross-dressing, and the black faces. It's very Edwardian. They took a dress-ups box."
Prebble decided to work the stories and images into the show to make sure audiences understood the context.
"They evolved out of that desire to make sure that people know, when I'm singing about someone dying of frostbite or heroic marches that they undertook, that it all really happened, they're about real people.
"And the images - well, there are all these amazing photos that the explorers took. They were immersed in water and frozen for weeks, travelled across the oceans on a tiny boat, and they've come out looking so incredibly clear and well-preserved - it's kind of mind-blowing. And they're so well-composed. So my partner Emily took some of the images and turned them into illustrations for the show."
There are no actors involved and neither could it be classed as a musical, but Prebble says the storytelling has become more integral the more they've performed the show.
"It's really just me talking a lot," he laughs. "But it has become quite theatrical and dramatic, it's kind of like spoken-word storytelling.
"The thing with these stories is that all these guys were obsessed with the stories of the explorers who had gone before them, in the same way that we're obsessed with theirs.
"So there's a bit of a storytelling tradition that goes through all of that, that these guys were all sitting around, recounting stories of the past, reciting poetry and admiring that previous generation of explorers.
"So I quite like that what we're doing is in that tradition of telling stories face to face. And perhaps inspiring some future explorers."
Who: Sam Prebble aka Bond Street Bridge
What: The Explorers Club: Antarctica album and show
Where and when: Performing tonight at the Voyager New Zealand Maritime Museum in Auckland.
Follow @nzherald_ent on Twitter for all the latest entertainment news.
- TimeOut