Ahead of his concert next weekend, soul music legend Bobby Womack talks to Scott Kara about coming back from the dead - both physically and musically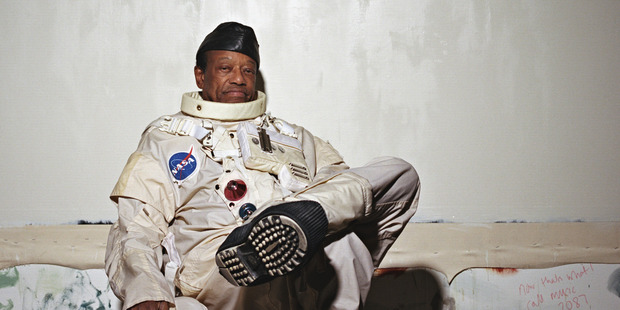 Bobby Womack has a little chuckle about how he knows more dead people than living ones.
"I always joke about it," he says in his throaty, cheerful voice on the phone from his Los Angeles home.
And the singer, one of only a handful of soul music survivors from the genre's golden era of the 60s and early 70s, certainly knows more famous dead people than most. He reels off names such as Elvis, Marvin, Janis, Jimi, and Sam. That last one, by the way, is soul music pioneer Sam Cooke.
"I think about them when I'm up on stage, too," he says, and then, sounding more serious, he adds: "It's amazing where my mind goes to when I'm performing. It goes to the day I met Janis Joplin, the day I worked with Wilson Pickett and Marvin Gaye. Just places like that, I'm in another world.
"I think about Marvin Gaye. I think about Ray Charles. I think about Jimi Hendrix. I think about Sam Cooke. I really miss those artists because at that time many of them hadn't become [fully] known to the world. We were all still growing up back then, trying everything to stay in the music business, because that was the most important thing to us."
It's Cooke, shot dead in December 1964 after an incident at a Los Angeles motel, who Womack refers to most, and not because Womack provoked much controversy in early 1965 when he married the singer's widow, Barbara.
It's just that Cooke, who Womack played guitar for and was mentored by from the mid-50s, remains his enduring musical influence. He laughs about how, in his early days, people used to say he was just copying Cooke when he sang. "But everybody sounds like somebody, and then they end up sounding like themselves. There's only one Sam Cooke, there's only one Rod Stewart, and there's only one Bobby Womack.
"As Sam used to say, you start out as an entertainer, and if you grow a lot, and you let yourself grow, then you become an artist - and it don't get no better than that."
Back in the early 60s he remembers Cooke asking him over to hear a new song. And listening to Another Saturday Night, with the lyrics "How I wish I had someone to talk to, I'm in an awful way", scared Womack, and these days he talks about it as if the song was a portent to Cooke's death.
"I said, 'I love the song, it's just that it's scary. It feels like sad words. It feels like death. It will get everybody's attention.' He said, 'Bobby, I won't live to see it but I believe you will live to see us with a black president'. And I'm like, 'oh man, you're drinking the wrong sort of gin'.
"Because that did sound weird 50 or something years ago."
At 69, Womack has had a hell of a life. His personal life has been desperately sad (two of his sons have died) and, as we've heard, scandalous. It's also been a struggle due to a long period of drug addiction throughout the 70s and 80s, and more recently he has suffered a string of health problems including pneumonia and colon cancer (for which he has been successfully treated).
"When I got real sick - and I ain't never been sick, well, not like that - I had a cold. But I got real sick and the guy was like, 'we gonna have to pull the plug. You've been in a coma for 17 days and your organs are starting to fail'."
But, he says, they brought him back from the dead and "when I got back" (he laughs) he went on to release one of his best, and most innovative, albums to date.
More on last year's The Bravest Man In the Universe soon, but first, a quick run-down of Womack's vast musical legacy.
He started out in the late 50s in The Valentinos with his four brothers. One of his first big breaks came when he co-wrote the song It's All Over Now, which the Rolling Stones covered in 1964 and would become the band's first British No1. His solo career took off in the late 60s with the release of debut solo album, Fly Me To the Moon, which included a cover of the Mamas and the Papas' California Dreamin'. He played guitar on Sly and the Family Stone's agitating and accomplished classic There's A Riot Goin' On in 1971, and in 1972 he sang the title track to blaxploitation film Across 110th Street. It's still one of his favourite songs and he will play it at his concert at the Civic next Saturday. "That song was written a long time ago and people didn't believe there was a ghetto in every city. I was ahead of my time, or maybe they were behind their time.
"And it's great people always talking about the old school because if there was no old school there definitely wouldn't be no new school."
Although he continued to release music throughout the following decades his live performances and output eased - but with The Bravest Man In the Universe Womack joined the "new school" himself.
Teaming up with Blur and Gorillaz main man Damon Albarn - "he is a genius, he thinks so differently" - he crafted an old-school-meets-future soul record, which made many end-of-year album lists including TimeOut's.
He first collaborated with Albarn on Stylo, the lead single off Gorillaz' 2010 album Plastic Beach, and toured here with the band playing Vector Arena in December 2010.
Womack says Albarn got him back into music after years on the outer and he enjoys working with him - even if some of his recording methods are a little sly. "He'll question you about things with a tape running and I don't even know the tape is running and then he'll go home and write a song with it. Then he'd bring the tape back and I'd say, 'That sounds like me'. He'd say, 'That is you'.
"But I like going places I ain't ever been. So it's all good. And I'm not being negative here, but I ain't just coming in, I'm going out, so I'm just glad people are catching me in my total show form. It's exciting for me, and there's new music, and there's a new breath of fresh air coming from me after being out here a long time."
Who: Bobby Womack
What: Soul music great
Where and when: The Civic, May 18
Listen to: The Bravest Man In the Universe (2012); Back to My Roots (1999); I Don't Know What the World Is Coming To (1975); The Facts of Life (1973); Understanding (1972); Communication (1971); Fly Me to the Moon (1969)
- TimeOut