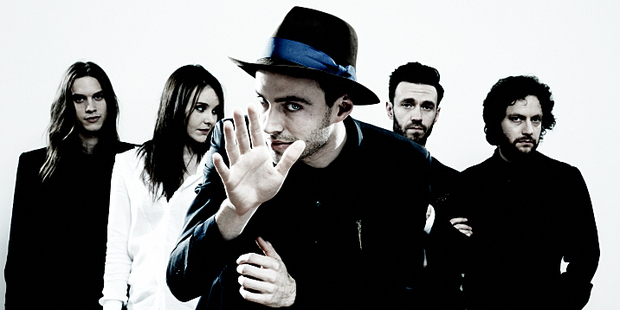 The Veils are returning to New Zealand for the first time in four years in support of their new album Time Stays, We Go.
The London-based five piece band will play Sammy's in Dunedin on July 19, Dux Live in Christchurch on July 20, Bodega in Wellington on July 26 and The Studio in Auckland on July 27.
Lead singer and songwriter Finn Andrews said he was excited to be coming home to play his new songs.
"We're all so excited to be able to finally head back home for this tour - I'm going to fashion a raft out of mince and cheese pies and grain waves and float into the middle of the Waitemata Harbour with a great big grin on my face," he said.
Tickets are on sale at undertheradar.co.nz today.
Watch: The Veils perform Turn From The Rain at the iconic Abbey Road studios.
Welsh rock institution the Manic Street Preachers will play New Zealand for the first time on July 2 at Vector Arena.
"We can't wait to play a selection of our greatest hits to our loyal and very patient Kiwi fans," say the band, made up of guitarist and singer James Dean Bradfield, bass player and lyricist Nicky Wire and drummer Sean Moore.
Admittedly, the band are more popular in Britain and Europe than in New Zealand, but having released 10 albums in a career spanning almost 30 years, they have a vast catalogue of material to call on when they play live.
Their best-known songs include A Design For Life, from 1996's breakthrough album Everything Must Go, the anthemic If You Tolerate This Your Children Will Be Next and the lovely You Stole the Sun From My Heart from 1998 follow-up This Is My Truth Tell Me Yours, and early favourites Motorcycle Emptiness and You Love Us from powerful 1992 debut album Generation Terrorists.
The band also have one of rock's most curious stories to tell, following the disappearance of friend, core band member and principal lyricist Richey Edwards in 1995. Edwards was never found, though declared dead in 2008, and a year later the band released ninth album Journal For Plague Lovers, which was composed entirely of lyrics left behind by Edwards.
"Richey was such an amazing rock star, an intellectual, so erudite," said Wire of his former writing partner, in an article in The Independent.
"I thought I was clever, but he was way beyond me, his mind was accelerating to such a degree. We loved Richey so much, his intellect and his lyric-writing, that it didn't really matter about his guitar-playing."
Tickets on sale May 9, from 9am, from ticketmaster.co.nz
Kiwi fans will be able to "dance, dance, dance" to Ten Guitars, when British pop legend Engelbert Humperdinck returns to New Zealand for one concert at Vector Arena (in its more intimate theatre configuration) on Saturday June 29.
He sold out The Civic when he was last here in 2006, and this show will be another greatest hits performance, so fans can expect Ten Guitars will be on the setlist.
The song became a local hit, and something of an unofficial national anthem in New Zealand when it was released as a B-side to Humperdinck's 1967 smash Please Release Me, and radio programmers opted to play the upbeat track with its Maori strum instead.
Humperdinck re-recorded the track earlier this year with Aussie supergroup the Break (with musicians from Midnight Oil, Violent Femmes and Hunters & Collectors), which caused a flurry of mild controversy Downunder, but Humperdinck is still clearly aware of its Kiwi significance.
"I'm so proud of the way Ten Guitars has influenced so many people and been embraced so strongly by the New Zealand public."
This concert will also debut a virtual duet with Elton John and other material from his upcoming Duets CD (which also features tracks with Smokey Robinson, Willie Nelson, Kenny Rogers and others), along with iconic songs from his vast 80-album catalogue.
Tickets go on sale Monday May 6 through Ticketmaster.
Bruno Mars may have been locked out of heaven but the smooth singing and dancing star is returning to New Zealand.
Although fans of the Grenade and Just the Way You Are singer will have to wait a little while with his Moonshine Jungle Tour not landing here until March next year. He plays Vector Arena on March 15 which follows his sold-out show at the same venue in April 2011 as part of his tour in support of his debut album Doo-Wops and Hooligans.
General tickets go on sale at 9am, May 10 from ticketmaster.com. My Live Nation members pre-sale starts 12pm, May 6 (sign up at livenation.co.nz) and the Ticketmaster pre-sale starts 12pm, May 8.
For more information go to brunomars.com and livenation.co.nz.
Lastly, Tool have announced post-rock band Jakob will open for them at both their Vector Arena shows in May.
The Napier-based three-piece band supported Tool for their Big Day Out sideshows across Australia in 2011.
They are taking a break from putting the final touches on their fourth album at Roundhead Studios in Auckland to play support again.
- TimeOut