Screen and stage icon Dame Julie Andrews talks to Russell Baillie ahead of her performances in New Zealand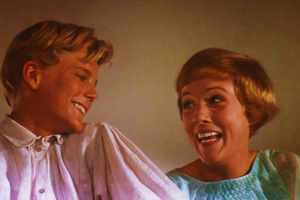 She went from nanny to nun, from Vaudeville to Hollywood, from stage to ... well, back to the stage, actually - Dame Julie Andrews is heading here to tread the boards in her memoir show. An Evening with Julie Andrews traces her path from child actress in post-war Britain, before heading to Broadway in the 1950s, then into the movie musicals which rendered her a star for the ages.
She's told the first part of that story before in Home: A Memoir of My Early Years, her 2008 best-selling autobiography which told of her often disturbingly troubled childhood and the pressures of her stage career before Mary and Maria.
It's a sobering read for those who may think she's "practically perfect in every way" or assume she must be like the characters she played back in 1964 and 1965.
Dame Julie is 77, and lost her second husband, esteemed film director Blake Edwards in 2010. She no longer sings because of a botched operation on her vocal cords in the 1990s and, on the phone from Los Angeles, her famously sunny tone comes with a gravelled edge.
She has kept her eye in - and voice too - playing queens in the Princess Diaries and Shrek movies, among other supporting roles. But in recent years, her main job has been as a prolific children's author with her eldest daughter Emma Walton Hamilton.
In 2011, the pair's Julie Andrews' Collection of Poems, Songs, And Lullabies won a Grammy Award for Best Spoken Word Album for Children, something for Dame Julie to put on the mantelpiece alongside the mounting lifetime achievement awards.
Putting her own life on paper, though, wasn't a decision she took lightly ...
"I've been asked and asked and asked because not too many people know about my very early life and how I arrived at my main life.
"About 14 years ago Hyperion the book company came to me and said to me 'can we give you an advance and just leave it? You don't have to touch it' - and I let them and they had me hooked. For 11 of those years I said no, I don't feel quite ready yet, and then I began very slowly.
"I thought I would love to write something for my children and, to cut a long story short, a great mentor of mine was a gentleman called Moss Hart who was the gentleman who directed My Fair Lady and Camelot on Broadway and became a tremendous friend.
"He wrote a phenomenal biography called Act One. It revealed to me a part of theatre history that I knew very little about and I went back to it and read it again when I was starting to write. I thought, 'That's the reason to publish - that not many people know about the late days of Vaudeville in England - what it was like to be a child going through that'."
So if and when Home becomes a movie who will play you?
Ha ha. Well, I really don't know and I haven't thought about it. It probably would be long after I'm not around and that is fine.
Will you write a sequel about your life in movies?
I don't know. It gets harder and harder because I know more and more people. But I've tried to be very honest. I really was doing it for my kids but the historical part of it I just thought might be of use.
Quite aside from your career and your family life, it's a story about traversing the British class system - from your own family's humble beginnings to where you are now.
More than that, the thing that blew my mind was where my grandparents and great-grandparents began and how in three generations quantum leaps were made. My mother and her life was a quantum leap from her mother's and from her to me was another quantum leap. Life has been amazing and I've been very, very fortunate.
And now you are regularly being cast as a queen.
Purely by accident. Believe me.
Given the self-assessments of your life in the book and in the show, any regrets?
None, absolutely none. Really just amazement and gratitude as much as anything. I don't think regrets because anything you do in life isn't really wasted. I used to wonder what all those early years in Vaudeville meant and what possible use it could be. I learned more than I realised and it's stood me in great stead.
Given the long shadow cast by Mary Poppins and The Sound of Music on your career, any mixed feelings about those films?
No, as a matter of fact I have to say I was the lucky lady that was asked to do those movies and who could have predicted they were going to be that hugely successful? The fact that they were family movies and have stood the test of time has been tremendously to my advantage, too. So I don't knock them at all. I am very proud of them - they were beautifully crafted movies and in terms of Poppins - for God's sake, it was made long before any of the new magic which they use today and yet it still looks seamless.
You were cast in Mary Poppins as a movie newbie. That's still quite remarkable.
Yes, and it was all thanks to Walt Disney and his talent for spotting talent and being very generous. He took chances with many people and I was one of them.
And now you're back on stage as you were before the movies. What's the show like?
It's a mixture of early life and how much travel has changed my life. If you read my memoir you'll know that it began so simply. It went from just being in Walton-on-Thames to touring around England and suddenly here I was going to Broadway and here I was going to Hollywood ...
That plus films and anecdotes and stories and a lot of footage, a lot of montages showing not only moments of my life to do with concerts or films or books but also out-takes which are hilariously funny and silly. So it will be a fun evening as much as anything. Then we open it up to questions and answers and that is actually the best part of the night.
Your audience must be reflective of the lasting appeal of both Mary Poppins and The Sound of Music. And of course you have a big gay following too ...
Who's luckier than me to be able to give people that much pleasure? And I am quite serious about that. What a thrill and it is, my thrill, to be able to do that.
Plus the younger Princess Diaries fanclub...
Ha ha. That's right. It's hilarious or saying "My mother loved you" which really dates me.
So did you give Anne Hathaway any career advice and, if so, did she take any notice?
No, she's a great friend. She didn't need it. She was talented from day one and she didn't need it from me but we are very good friends. It seems that I have stayed friends with a lot of the people I have worked with.
I think I can tell why.
You're very kind.
Why do you feel the need to go out on tour? You've done the written memoirs and for many the loss of their singing voice would have put a full stop on any live performances.
I am very used to working and it keeps me alert and stimulated and I love it. And it's a huge adventure to come to a country I have never been to ... I won't be singing, as everyone knows. I will be showing enough of my singing to give everybody a good evening in that respect.
[After the surgery] I didn't know for at least a year or so that I wouldn't be singing again because I kept thinking I was taking a long time to heal and was in some denial. I began writing seriously with my daughter. We formed a small publishing company and that turned out to be hugely successful. One day I was bemoaning my state to her saying 'I do miss singing so badly'. She said very quietly, 'Mum you've just found a different way of using your voice', and you know what? It was as if the weight dropped from my shoulders.
There are many ways I can connect and convey. All our books are about music or packed with music or with CDs and a couple have gone on to be developed for the theatre. Those are bonuses beyond my wildest imagining. It sounds very Pollyanna-ish but who knew that door would open when the other one closed?
Who: Dame Julie Andrews
What: An Evening with Julie Andrews (an interview-based non-singing show hosted by Nicholas Hammond, who played young Friedrich von Trapp in The Sound of Music)
Where: Civic Theatre
When: Wednesday June 5, 8pm
- TimeOut