Friends from way back make magic music, writes Paula Yeoman.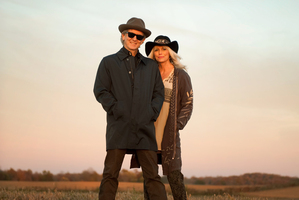 Country legend Emmylou Harris has lent her smouldering, smoky voice to countless collaborations over the years, including Gram Parsons, Roy Orbison, Johnny Cash, Bob Dylan, Dolly Parton, Linda Ronstadt, Neil Young and Willie Nelson.
Now she has reunited with longtime musical buddy guitarist and songwriter Rodney Crowell for Old Yellow Moon.
"This record was on my bucket list," she says. "I always knew we would do it but it got to that point where we'd been talking about it for 35 years."
Once they'd both found time in their busy touring schedules, what followed was magic. The 12-track album is mostly country classics such as Hank DeVito's Hanging Up My Heart and Roger Miller's Invitation To The Blues but there are also a couple of new songs.
While there are far too many special moments to recount, Harris says reinterpreting the title track, written by Devito and Lynn Langham, is one that stands out.
"I'd had that song on my list of things to record since before Wrecking Ball. In fact, I was thinking of doing it on Wrecking Ball but I never got around to it. So it was buzzing around in my head for a long time," she says.
"When we were picking material, we'd get interested in a song, then we'd find a key and put down a little demo around the kitchen table. The version of Old Yellow Moon that is on the record is actually the first time we ever sang the song together. We loved it so much, we said, 'We can't recreate this'.
"We cut it with just Rodney and me playing guitar. We weren't even making the record, so I loved the journey that song took."
Harris, who has had a string of hits, including Boulder To Birmingham, Together Again and Two More Bottles Of Wine, is reluctant to pick favourites when it comes to other artists she has worked with. You can't, everyone is different," she says.
But it is the short-lived musical and romantic union in the early 1970s with Gram Parsons, who spotted Harris singing in a club and invited her on tour, before dying of a drug overdose in 1973, that she credits for a glittering career. "My whole adult life in music really started with Gram ... everything emanated from that particular period of time. It was very brief, but I can't imagine that I would've gone on to do what I've been able to do if it hadn't of been for that fortuitous meeting." And there's Crowell. "I first heard his songs back in 1974 and we've been friends and musical collaborators, off and on. He is really wonderful.
Emmylou Harris and Rodney Crowell's album Old Yellow Moon is out now.