Graham Reid talks to nine-time, make that 10-time, Grammy winner Bonnie Raitt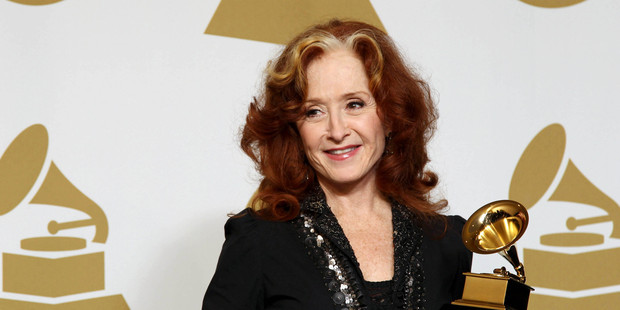 It's just five days before this week's Grammys, for which she has been nominated in the Americana category for her album Slipstream, so let's wish Bonnie Raitt good luck.
On this evening she's watching the dimming of the day through the redwoods at her home, 15 minutes north of San Francisco, and laughing about the upcoming awards.
"I got my outfit and my boyfriend's got his tux pressed, so we're rarin' to go. I don't think I'll win. But I already have nine, thank you very much," she jokes.
"But it'll be fun because they do ours in the afternoon with blues, jazz, reggae and Hawaiian, so there's no television cameras. It's just a big party."
And with that ceremony now over, Raitt might have partied there longer than most - because with Slipstream she picked up yet another trophy for her shelf.
Even now, accolades just keep coming for 63-year old Raitt and Slipstream - her first album in seven years - has been acknowledged as not just one of her best, but another entry in her unique continuum of blues-rock, affecting ballads and sassy rock 'n' roll.
On the album is her co-write with guitarist George Marinelli Down to You, which sounds like it slipped out of a Stones' Exile on Main St session ("Oh yeah, we can do that Ronnie 'n' Keith thing") but there is also the stunning ballad You Can't Fail Me Now, written by Loudon Wainwright and producer Joe Henry.
"Isn't that the most amazing tune? Joe and Loudon had written that for the Knocked Up soundtrack and Loudon cut it for his album Strange Weirdos, but I heard it on Joe's Civilians album. Sometimes there's a melody that's just so out of the park, and the line about 'mercy is just a warning shot across the bows' - c'mon, get outta here. That is so great."
The exceptional song - now owned by her interpretation and neither of its writers' - takes its place as a sister song alongside her signature If I Can't Make You Love Me of 22 years ago. And that song - recently covered by Adele, Katy Perry and Bon Iver, and so important to her audience - remains in her set every night.
The Grammy-grabbing Slipstream - with astute covers of recent Dylan songs, a smart reggae reworking of Gerry Rafferty's Right Down the Line (which lyrically might be addressed to her loyal fan base), the thoughtful Henry piano ballad God Only Knows, and some brittle observations about the cruel price some pay for fame (Used to Rule the World, Marriage Made in Hollywood) - is classic Raitt for its adult and unflinching view of the world.
But it was a long time coming.
After her Souls Alike in 2005 and two years of touring - which brought her to New Zealand for acclaimed shows in 2007 - Raitt retreated. Her parents were ailing and subsequently died, and her brother died in 2009 after battling brain cancer. So Raitt did something she'd never done. In 2010 she stopped all musical and political commitments, and stayed at home.
"I watched four seasons go by in my own neighbourhood. I'd never spent four seasons in one place. I was pretty racked with grief that I was finally experiencing, so it was very healing."
Raitt admits things fell apart emotionally - she had therapy, went for long walks, looked out the window, made meals and tried to come to terms with who she was, now no longer the daughter/sister in other people's lives.
There were family matters to sort out, the difficulty of turning down requests from the numerous political groups she supports, the knowledge her working life was central to the wages of fellow musicians, crew and the business which had grown up around her.
"There's always a balance between the personae of your life as your work, or that of being your parents' kid. I was relying a bit too much on the professional side, but there's overlap in what I do. It doesn't stop at 5pm.
"You have to address relationships in your family and aspects of yourself that you haven't, in 40 years on the road, given any shrift to. It wasn't the easiest thing I did, but was rewarding and transformational getting to know parts of myself. Which sounds very northern Californian," she laughs.
"I turned down all the benefit requests and, for an activist like me, just on guilt level alone - let alone strategically and politically - that was a problem. There were groups that without the support they are accustomed to getting from my tours ... well, it was a hard line to draw.
"But I just didn't feel like being the capital-letter version of myself and it wasn't appropriate for me to suit up as this bigger personality."
She laughs about how she thought she'd buy an easel and paint, and do all those things we always promise ourselves we'd do if only we had time. But she didn't. She lived quietly.
Then Henry was in touch, she came to miss playing, knew she'd had the bones of an album before her hiatus, heard some great songs ... and was back with her band in the studio.
"The next thing I knew it was like getting back on the horse, and I was raring to go."
And now, another Grammy in hand, Bonnie Raitt is on the road again with her cracking band.
"Yeah," she laughs again after a serious conversation about family losses, retreat and self-analysis. "We're all born to do this and, especially as the music business implodes, there aren't many acts that are self-supporting any more.
"I'm so grateful my fans still want to see us. We've been selling out everywhere and the record is still doing well."
Who: Bonnie Raitt and band
Where: Ascension Wine Estate, Matakana, April 7; TSB Bank Arena, Wellington, April 10; Claudelands Arena, Hamilton, April 12.
Listen: Slipstream (2012); Luck of the Draw (1991); Nick of Time (1989)
- TimeOut