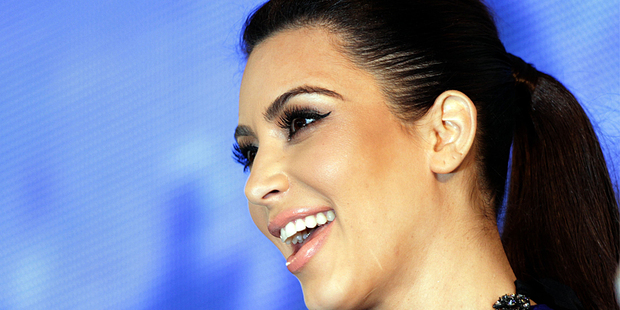 Mum-to-be Kim Kardashian has opened up about her pregnancy.
The reality TV queen, 32, who is expecting her first child with boyfriend and baby-daddy-to-be Kanye West, rocked the red carpet at a New Year's Eve bash in Las Vegas on Monday, and took time out to dish on the surprise bambino announcement.
Speaking to Entertainment Tonight, Kardashian shared that being pregnant so far is "not as easy" as she had thought it would be.
"I take lots of naps. Actually I feel really good. This New Year is just about being happy and healthy and that's what I plan on doing," she said.
"I wouldn't say that pregnancy has been easy but there's been no morning sickness."
She continued, "When people say pregnancy is fun and they love it, I would disagree. I think from this stage on it does become easier and funner but it's just adjusting.
"Even my sister has made it look so easy and it's not as easy as people think. It's a little painful, there's a lot of growing pains.
"But I've heard it's all worth it so I'm looking forward to that."
Kardashian, who hosted a bash at Sin City hotspot 1OAK nightclub, also dished on her biggest pregnancy craving: Sushi.
She said: "I'm craving sushi, but I know I can't really have it, so I'm eating a lot of carrots and celery with lots of ranch."
In a separate interview with Us magazine, Kardashian revealed that she and West are keen to know Kimye Jr.'s gender before she gives birth.
"Of course I do want to know. I can't find out yet, but I do want to know," she said.
Rapper West, 35, who has been dating Kardashian since April 2012, dropped the baby bombshell before a crowd of 5,000 fans during a concert at the Revel Resort in Atlantic City on Sunday.
"Stop the music for a second, stop the music," Yeezy said in the middle of his track Lost In the World, while gesturing to Kardashian. "Can you make some noise for my baby mama right quick?"
Watch West's big announcement below:
Kardashian confirmed the news a few hours later on her official blog.
"It's true!! Kanye and I are expecting a baby," she declared. "We feel so blessed and lucky and wish that in addition to both of our families, his mom and my dad could be here to celebrate this special time with us."
Kardashian's father, Robert Kardashian, died in 2003. West's mother, Donda West, died in 2007.
'KANYE WILL WANT TO POST THE PICTURES HIS WAY'
Meanwhile, gums are already flapping over which magazine will get to feature the first cover shot of Kimye Jr.
A source told gossip column Page Six: "Like Jay-Z and Beyoncé did with their little Blue Ivy [they put the pics on Tumblr], Kanye will want to post the pictures his way, probably publicly through Twitter - which will no doubt put him at odds with matriarch Kris Jenner, who'll want to make a deal with the highest bidder."
Rumour has it that Jenner's already on the case, and has approached certain weekly celebrity glossies to auction off exclusive snaps of the baby.
"(It) likely will sell at US$300,000, and that's Kim solo because Kanye always looks so miserable," a snarky source told nydailynews.com.
Other sources say the reality-TV diva could coin millions for the snaps.
"The last time a pregnancy caused this much attention was when Angelina and Brad were expecting twins in 2008," an insider tells The Huffington Post. "Those images sold for a record-breaking $14 million."
Adds another source: "The first images of Kim's baby could sell for as much as $3 million. But just like she did on her wedding, Kim will be able to make money from TV specials, gifts, baby showers and baby parties."
It's also been suggested (you might want to suspend your disbelief) that Kardashian has decided that the baby won't be thrust into the limelight.
A friend of the couple dished to scandal sheet TMZ that West and Kardashian want to "ensure real privacy" for the wee one, and have decided the baby won't be a part of her reality show.
But as the couple prep for parenthood, rest assured, the cameras will still be rolling.
E!, the network home of Keeping Up With the Kardashians, is already making plans to document Kardashian's journey to motherhood.
"Kim and Kanye are an incredibly dynamic couple, and their baby news is just so exciting," the network's president Suzanne Kolb told The Hollywood Reporter in a statement.

"Like so many Kardashian fans, we love it when this close-knit family gets even bigger. We look forward to sharing the joy as they prepare for more diapers, more bottle and without a doubt, more fabulous baby wear."
While a source adds that the network "will continue to cover all aspects of Kim's life as it always has."
Kardashian famously pulled the proverbial plug on her 72-day marriage to NBA player Kris Humphries in October 2011. The former couple is currently embroiled in a slow-moving divorce battle.
Once the divorce is through, word is that Kardashian and West will be revving up to trot down the aisle.
"Kim has been trying for a baby for a few months. She got off birth control and it was a decision she and Kanye both made. They wanted to get married before starting a family but the divorce changed everything because its taken so long to finalise," a source told hollywoodlife.com.
"Kanye and kim will definitely get married after the divorce is settled with Kris."
But the lovebirds could be in for a bit of a wait. Radar Online reports that Kardashian will likely be pushing a carriage before the official end of her whirlwind marriage.
FAST GOSSIP
And finally...
* Paparazzo killed after snapping photos of Justin Bieber's Ferrari.
* "Great actors PRETENDING to be singers" - American Idol alum Adam Lambert slams Les Miserables in Twitter review, cast member Russell Crowe responds.
* "Happy, lucky and blessed" - Lusty octogenarian Hugh Hefner marries his 'runaway bride'.
* Britney Spears says she's "working hard" on her next album.
* Lady Gaga will offer mental-health counselling before concerts.
* Taylor Swift and Harry Styles ring in the New Year with a kiss.
* Miranda Kerr fuels Orlando Bloom split rumours.
* Did Brad Pitt and Angelina Jolie tie the knot on Christmas Day? Their reps stay silent.
* Not so subtle: Rihanna and Chris Brown share bed on New Year's Day.
* Green Day to go back on tour after Billie Joe Armstrong's rehab stay.
* Pink being sued for unpaid royalties.
Follow Myrddin Gwynedd on Twitter.
- Rumour Has It