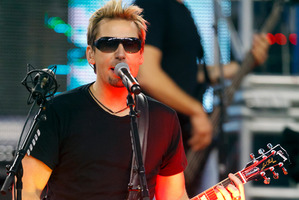 A mate of mine - who will remain nameless to protect his identity - wasn't exactly rubbing his thighs excitedly at the prospect of seeing Nickelback, but he was still pretty keen.
Being a heavy rock fan, and a bit of metal nut too, he was intrigued to see the Back, as he calls them. They are, after all, one of the biggest rock bands on the planet - even if much of what they play is clichéd and corny Canadian rock.
I was keen to see them too, because Nickelback can be quite heavy actually, like when frontman Chad Kroeger and the lads put their foot on the throat of a song like This Means War, which opened their two hour set. It was a stomper, as was the chug and groove of Figured You Out and finale Burn It To the Ground, with lines like "I've got a fist full of whiskey, the bottle just bit me."
But mostly, I have a morbid fascination with the band because not only are they one of the biggest in the world, they are also one of the most hated.
And during this show - on their third visit to New Zealand, which included supporting the Rolling Stones in 2006 - you can see why they are so divisive.
There's the soppy and simpering rock ballad Far Away, the almost Celtic flavours of When We Stand Together is more like the 48 hour famine theme song than a world peace anthem, and Nickelback also do a good line in dumb rock songs, from the fun but bone headed Rockstar to drinking song Bottoms Up ("It's about getting together with some friends and tipping a few back," says Kroeger).
But then they are at their heavy rock best on songs like the rousing and rumbling Someday, during the quite beautiful Photograph (and yes, I know it's cheesy as all hell) even the security guard couldn't help but break code and sing along, and it's almost impossible not to chime in with Chad on their most famous song, How You Remind Me.
Speaking of the Chad, he is one of those frontmen who insists on yelling almost everything he says, and his incessant between song banter with guitarist Ryan Peake gets a little tiresome too. But he's funny in an endearingly dorky Canadian kind of way, like when he does a costume change from "one black t-shirt, to another black t-shirt".
"I tell ya Auckland this is a highly choreographed show," he hoots.
Even though it might sound like I almost got brainwashed into becoming a Nickelback convert, I'm far from it. My favourite part was the intro music, with Pantera's Walk proving Nickelback have good taste in heavy metal.
But there is no denying what they do, they do with precision and passion. So my mate and I reckon the world should back off the Back a bit. Just a little at least.