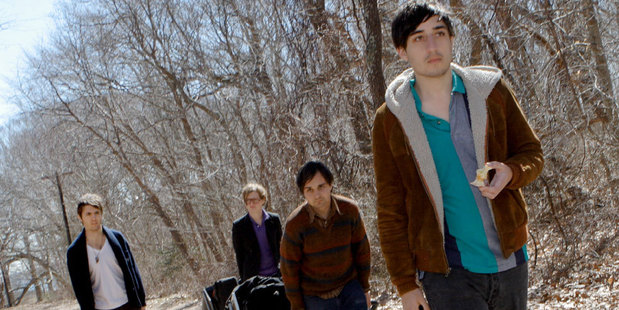 A live show from Grizzly Bear comes with high expectations.
They create beautiful complex webs of music, that somehow still bend the ear, with strong hooks lingering in the mind.
Their love of unusual time signatures, colourful vocal harmonies, instrumental virtuosity, and a wide palette of timbres have made the Brooklyn four-piece indie favourites.
And on Wednesday night, which was the last performance of their three month international tour, they came armed with all the right ingredients for a wonderful show - an impressive, creative light display, a sold-out audience who were appreciative and respectful, a great venue (Bruce Mason Centre), and a setlist that balanced their four album back catalogue elegantly between well known hits and their more avant garde material.
But the overall result was less than the sum of its parts, and felt a little flat.
They're not a band known for their audience interactions (front man Ed Droste is endearingly awkward with the crowd banter) but the five (including extra live keyboardist Aaron Arntz) seemed somewhat stiff on stage at times, or perhaps simply a bit tired.
They did pull out impressive performances on a number of tracks of course, it was more the overall impression that suffered.
Early on Sleeping Ute shined with its psychedelic 70s prog-rock leanings. Lullabye with its poignant waltz-like opening and lovely gentle singing that descends into a bright cacophony of flute, autoharp, xylophone, and eventually a sort of drum n bass melange was another impressive display.
It could've been even better (like much of the set) if the sound was more balanced, and less over-driven - the volume level was unnecessary in the Bruce Mason where the natural acoustics are so strong, and muddied their more emotional peaks.
The first goosebump inducing moment came with Yet Again. A stunning song of yearning, a dreamy web of rising melodies and shifting rhythms where the vocals really stood out for the first time.
The excellent whistling and clarinet on the lovely soft Shift was a wonderful display too - and showed they can sound just as complex when they're quiet and reflective.
A Simple Answer started with a sense of jubilation, but somehow became a bit tedious over the course of it's six minutes. The same with Gun-Shy, which has a great sensual, dark vibe, but the groove never really locked in.
And then, well, they sort of got stuck in a sequence of songs which felt a bit meaningless and wandering, and it wasn't until they reached While You Wait For The Others that they reconnected with the audience.
In fact Arntz even attempted a stage dive into the audience, but unfortunately the security guy got a bit confused in the dark, thought he was an audience member, and hauled the poor guy off to the side leaving the band waiting for him to be let back on stage.
They were then able to begin their final run home in the 100 minute set, which included a solid performance of their best known track Two Weeks, a brilliant, intense, driving version of Half Gate, and a relatively energetic go at Sun In Your Eyes.
Sadly the encore felt a little bit lacklustre with a slightly phoned-in performance of Knife, and an acoustic version of All We Ask, on which the vocal harmonies didn't quite melt the way they do on Veckatimest.
They're a band that write ambitious songs, stretching the ears and the mind, but on their first visit to Auckland, they fell a little short of expectations, and while one never expects perfection in a live setting, they lacked an overall sense of soul or enthusiasm that would've forgiven some of their flaws.