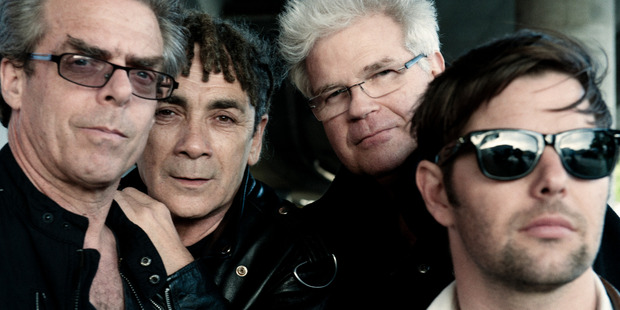 Rhythm and Vines will be announcing their three-day New Year's Eve festival line-up this evening and, as they're celebrating their 10th anniversary this year, it seems likely to be a big one.
With 100 acts performing on five stages over three days and nights, it's usually a pretty varied selection of artists heading to Wai-o-hika Estate, just out of Gisborne, to celebrate and party with up to 30,000 punters.
In past years, what has become the biggest local New Year's festival has welcomed bands like Public Enemy, Pendulum, N.E.R.D, Shihad, Franz Ferdinand, Calvin Harris, Moby, Shapeshifter, Six60, Tinie Tempah, Roots Manuva, Santogold, LCD Soundsystem and a whole truckload of others.
Festival organisers are promising more international acts than ever before, along with expanded and improved onsite camping and a refreshed version of last year's big success, the Tepee Village - and, of course, the annual massive fireworks display.
Tickets have been on sale since May through the festival website, with nearly 17,000 already sold.
Check nzherald.co.nz later tonight for the full line-up.
Meanwhile, Dragon celebrate their 40th anniversary the only way they know how; by hitting the road for a nationwide tour, starting in October.
The 14-date tour starts at Palmerston North's Regent on Broadway on October 16 and includes a show at Auckland's Powerstation on November 2 and a special gig on October 19 at the Owhango Tavern, 20km out of founding member Todd (and his late brother Marc) Hunter's hometown of Taumarunui.
Dragon will be joined by old mates Hello Sailor and Hammond Gamble for the tour.
The band, who won the NZ Herald Legacy award at the Music Awards last year, formed in the early 70s when the Hunter brothers, guitarist Ray Goodwin and drummer Neil Storey got together to make trippy psychedelic rock. They released debut album Universal Radio in 1974.
In 1976 it was with the single This Time that they started making a name for themselves in Australia and it ushered in a prolific period which produced a number of hit songs including April Sun In Cuba, Rain and Are You Old Enough?
Dragon's history is also chequered with breakups, reunions, and deaths of key band members, with Storey, and songwriter and keyboardist Paul Hewson dying of drug overdoses in 1976 and 1985 and Marc Hunter succumbing to throat cancer in 1998.
Dragon broke up in the late 90s but Todd Hunter reformed the band in 2006 with singer Mark Williams, guitarist Bruce Reid, and drummer Pete Drummond. They have been touring ever since and will release a new album later this year.
Visa pre-sale tickets go on sale Monday, August 20-23. Ticket agent pre-sales are on August 24-26 and public sales from August 27 at 9am. Check dragononline.com.au for ticketing details and the full list of concert dates.
- TimeOut