A new documentary charts the life, times and passing of seminal Birthday Party guitarist Rowland S. Howard, writes Ross Purdie.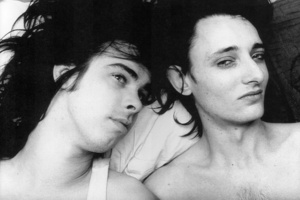 When Rowland S Howard allowed film-makers to chronicle his life there was an outside chance he would survive to see the finished product.
Best known for his work alongside Nick Cave in the Birthday Party, the guitarist was battling cancer, yet maintained the stubborn streak that defined his pioneering career.
"Rowland wanted the film finished whatever happened and facing mortality was one of the reasons he first wanted us to make it," says Richard Lowenstein, who with Lynn-Maree Milburn produced Autoluminescent.
"He said the film should be [as much] about chronicling what was happening to him at the time as it was about recording the past."
Two years after Howard's death, Autoluminescent offers a fascinating insight into a flawed but brilliant artist. His passing brought dozens of musicians from around the world to pay tribute to a man who refused to compromise or sell out.
"Rowland's imaginations and aspirations provided a compelling mix to build a film on," Milburn says. "His early music offered a window into what he was searching for and he experimented in ways to create a sound verging on the cathartic."
Lowenstein and Milburn were well fitted to tackle a film on Howard's life given they frequented the same circles in Melbourne's punk scene of the late 70s.
They were teenage fans of his first band the Boys Next Door before it became the Birthday Party, and admit making Autoluminescent brought a fair share of nostalgia and tears.
Determined to create a balanced tribute, the pair set to work unearthing every aspect of Howard's life.
"It was always going to be an interesting journey full of flaws and failures but also incredible high points," Milburn says. "There was an incredible integrity about Rowland where he always stuck to a certain truth he believed in."
Autoluminescent features interviews with music contemporaries including Nick Cave, Mick Harvey, Bobby Gillespie (Primal Scream), Kevin Shields (My Bloody Valentine) and Thurston Moore (Sonic Youth) revealing their connections with Howard. Shields and Gillespie praise his guitar genius, his ability to manipulate feedback as if the instrument was a synthesizer, but Howard wanted to be remembered for more than that.
"He almost reinvented the idea of the guitar hero when there were none, during that era after Hendrix," Lowenstein says. "But Mick Harvey (formerly of the Birthday Party) who consulted on the project said he would have hated that title. It was really important to Rowland to be seen as more than a guitarist, he was also a great songwriter and lyricist."
He also suffered a long-term heroin addiction and on December 30, 2009, aged 50, Howard died of liver cancer while filming was still in production. Sadly, his career was just beginning to take off again with a renewed interest in his solo albums and tour inquiries from around the world.
Throughout the filming of Autoluminescent its subject was adamant he could survive his illness.
"That's one of the great tragedies that come across in the film," Lowenstein says. "He wasn't saying 'yup, I've done all I can, it's time to go', he was just getting over some of his demons and was capturing this new spirit. Unfortunately his body wasn't up to it."
Lowdown
What: Autoluminescent, a documentary about Birthday Party guitarist Rowland S. Howard
When and where: Sunday April 8, 6.50pm and Wed April 11, 4.50pm Rialto, Newmarket
- AAP