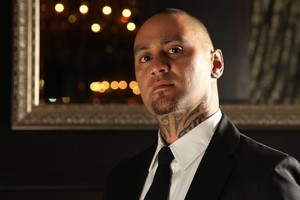 It's a dark and punishing trio of tracks at the centre of Tiki Taane's second solo album where he is at his fearsome best.
It starts with the distant and doomed eeriness of A Beautiful Mistake (with Moana and the Tribe), which is like a beefier, groove-heavy version of Burial's Archangel, followed by the immense exotic shudder of King of the Dubs, and ending with Bloodstone's wailing assault (featuring a twisted and distorted Hollie Smith).
It's powerful, and often challenging stuff, much in the same way Tangaroa, from debut Past, Present, Future, was.
And Taane has said the album's predominant bass-heavy rowdiness is a reaction against his 2007 acoustic hit Always On My Mind.
However, there is also a sentimental, sensitive and celebratory side to the album - because, after all, you can't take For the Love Of It and Always On My Mind out of a lad that easily.
For starters, the album kicks off with the sunny drum 'n' bass of Summertime, with shout-outs to seemingly every local act he's ever played a show with; then it's into the dubstep rock of Soundtrack To Forever (which first appeared on Bulletproof's excellent 2010 album of the same name, but it's a fitting addition here); and there are a clutch of uplifting and soaring tracks like the fluffy drum 'n' bass of Come Fly With Me and the Crushington version of Light Years Away (there is also a simmering Concord Dawn version).
Elsewhere Nothing But Love (with Christchurch dubstep trio Truth) is like a cross between Salmonella Dub's Drifting and For the Love Of It with its lilting melodic vocal ebb; the cute-as-anything father-son banter of Chico (with Taane teaching his young son to say words like bass and dubstep) leads into the lashing beats and agitating force of My Lion (a kind of pep talk for his son), which in turn gives way to the spooky ambience of Kaitiaki (with the voice of Taane's father, Uekaha, a potent presence) and the instrumental title track to end (which, with its sweeping strings, oddly enough reminds of Coldplay's last album).
It's another diverse record but with a strength - even in those lighter, fluffier moments - and cohesiveness that Past Present Future didn't quite have.
Rating: 4/5
Verdict: Don't be scared off, there are cute bits too.
-TimeOut