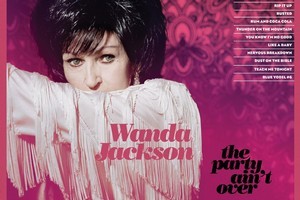 The Party Ain't Over album cover. Photo / Supplied
Wanda Jackson dazzled Kiwi crowds when she played here last year and she's about to do it again, this time with a new album, The Party Ain't Over.
The one-time girlfriend of Elvis Presley has entrusted Jack (White Stripes) White with the job of producer and making her cool again. She needn't have bothered, though - there's nothing cooler than a 73-year-old belting out classic rock 'n' roll.
Out now.
- Herald On Sunday / View