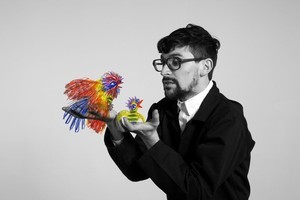 To prepare for recording his second album, Dudley Benson did a spot of bird watching and learned to speak Maori. The latter, says the eccentric chamber pop musician, was the least he could do since Forest is made up of seven interpretations of bird songs by the late Maori composer Hirini Melbourne.
"I felt I needed to at least have a solid understanding of structure and pronunciation out of respect for Hirini and out of respect for te reo," he says of enrolling at Auckland University for a full-time, 18-month course.
And as for the bird watching, well, donning binoculars and going bush to observe the bird life on Ulva Island, a bird sanctuary near Stewart Island, and on Tiritiri Matangi in the Hauraki Gulf, was when the project "had its moment of fireworks".
"It wasn't until I was with the birds on their turf that the project really presented itself fully and I knew on that day I had to record this record," he says in that softly spoken yet grand manner of his.
"So it's all about studying the birds, and I did a lot of listening to bird calls, and a lot of reading about their habits and personalities. I became one of these nerdy bird-obsessed people and I never quite understood until a few years ago how people could actually get binoculars on and spend all day doing that."
And now, all he wants to do is go bird watching, which is what he intends to do when the nationwide tour in support of the album that started at Te Mahurehure Marae in Auckland last night, ends on December 5 at Hoani Waititi Marae near Henderson.
Forest is minimal, magical, and recorded almost entirely with the human voice, which is in stark contrast to his 2008 debut The Awakening, an album and tour that was epic in scale with Benson accompanied by organ, harpsichord, a string quartet, a recorder quartet, and a choir.
"I felt after that project I wanted to bring it all back to the bare essentials, and if we have nothing else we have our voice, so that very clearly to me became the focus of how I wanted to record it."
Not that using just the human voice simplified the recording process. "Because of course there are a million things you can do with the human voice."
He also says following The Awakening he realised his artistic calling was to express stories and issues relating specifically to New Zealand through his music.
"That's where I want to focus my energies. I think it's a really important time for me to be focusing on simple waiata about caterpillars," he laughs.
Or birds - and a pungawerewere (spider) - as the case may be on Forest. Even though it is stunningly spare, it is diverse and dynamic thanks to a number of guest singers and players - including Richard Nunns on taonga puoro, beatboxer King Homeboy, bird mimic Gerry Findlay, and vocal quartet the Dawn Chorus - and the different birds Benson sings about.
"I really had to trust when I started this project that the birds would just fly off into their own direction - and my goal was simply to observe them as a bird watcher rather than caging them and training them. So I had a good two years before I started recording, and in that time it allowed the songs of each individual bird to go off in its own direction."
So there's the serene cooing of Pipiwharauroa (shining cuckoo), the primal vocal funk of Tirairaka (the fantail), and the oddball and ambient beauty of 10-minute final track Kiwi, a Sigur Ros-like "lament for Aotearoa".
And he's even turned one of Melbourne's folk songs into a staunch, beat-boxing ditty. Who knew the ruru - aka the morepork - could be such a swaggering hip-hop bird? Ruru was written following the anti-mining march up Queen St last year.
"I never expected one of these songs to be inspired by the march, but I realised the energy on that march and the strong sense people can feel for their land, and that was the same energy I wanted to channel into Ruru.
"So ruru is our mascot. Our superhero that protects us from people who want to take advantage of our land."
Benson, who grew up in Christchurch but now lives in Auckland, first came into contact with Melbourne's work when he was working in Marbecks Records and customers would come in and buy Forest & Ocean, which was released posthumously in 2006 - three years after the composer died. The album was a collection of waiata - made up of 22 bird songs - originally recorded in 1979 and 1980.
"You know how a customer can buy an album and you can usually tell from the manner or the look of the customer that the album is going to be interesting? Well, Forest & Ocean was one of those ones," he says.
However, more recently, through working with Richard Nunns - who collaborated with Melbourne throughout the 1990s and early 2000s - he has come to know the late composer's music and songs intimately.
"I became quite obsessed with finding as much of his music as I could."
For Benson the meanings and impressions Melbourne's songs leave on him are ever-changing. At first the songs were purely about the "aural essence" because he couldn't understand Maori; then once he started learning te reo and doing his own translations of the songs they took on new meanings.
"They have since become new friends and new acquaintances."
And despite Melbourne's musical legacy he says he didn't feel any pressure to portray and respect the songs in a special way because he knew the waiata well, he had the blessing of Melbourne's widow, and one of his main goals was to deliver the original message of the songs to new audiences.
"I trust myself as an artist and I know I will make the right decisions. And also my intentions were really good and I realised that perhaps because these songs already mean so much to so many people I could be criticised. But I just trusted whatever happened would be the right thing."
Performance
Who: Dudley Benson
What: Waiata done in choral chamber pop and hip-hop anyone?
New album: Forest: Songs by Hirini Melbourne available from dudleybenson.com
See also: The Awakening (2008)
Where and when: Kingston House, Kerikeri, Nov 14; Palm Beach Hall, Waiheke Island, Dec 4; Hoani Waititi Marae, Waitakere, Dec 5. For full tour dates see dudleybenson.com