Former G N'R star Slash is heading to New Zealand for a festival of guitaring. Scott Kara asked him for a few playing pointers and about his guitar heroes.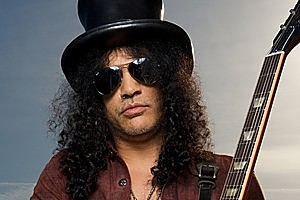 Slash is possibly not the best guitar god to go to if you're looking for advice on how to be the best axeman in the business - especially if you ask via Twitter.
"At that point it's like, 'well, there's nothing I can tell you in 140 characters'," laughs the former Guns N' Roses and Velvet Revolver guitarist on the phone from Los Angeles.
It's not as if he's being unhelpful, it's just that he doesn't think he's technically that good.
"I don't necessarily know what I'm doing," he laughs again.
"So I don't have any real answers about how to play guitar other than, 'you need to focus on what sort of music turns you on and chase that'.
"But as for what to do with the f***** strings and what have you, I couldn't tell you."
Earlier this year he released his self-titled debut solo album, which is still riding high in the New Zealand charts ahead of his headlining appearance at G-Taranaki International Music Week in New Plymouth from August 11-15.
The festival brings together some of the world's best guitarists - including Uli Jon Roth (Scorpions) and Jennifer Batten (Michael Jackson's former guitarist, who had the job of playing Slash's guest solos on the Bad album live) - in a celebration of all things guitar, and includes workshops as well as performances.
For many, though, it's Slash who will be the highlight.
Though the star-studded lot who featured on his album - including everyone from Iggy Pop and Ozzy Osbourne to Black Eyed Peas' leading lady Fergie and Dave Grohl - will not be in tow for the New Plymouth show, his newly assembled band will be playing a mixture of songs from the new album, as well as tracks by his former bands Snakepit, Velvet Revolver and the Gunners.
Slash says they will be back again for their own headlining show in February.
But for now, let's let the great axeman speak.
We talked about the record a few months ago when the album came out, so today can we talk about guitars?
Oh yeah, sure.
Have you done a show like G-Taranaki before, because it could be part concert, part guitar tutorial almost?
That's what I'm hoping it's not [laughs]. For me, we're just going to be a band and do the thing we do. It's not about showing off guitar skills. But it's definitely an interesting concept, and I've never played an event like this, so we'll just sort of show up and do our thing.
Who are you looking forward to playing with and seeing?
I'm good friends with Uli Jon Roth [the German guitarist who made his name in the Scorpions], and I'm a huge fan of his playing. I don't think I've ever seen Uli play as a solo artist and he's pretty fantastic. And then there's Jennifer Batten. There are so many. There's going to be a lot of twanging going on and it's going to be one of those things where it's going to be a barbecue, the likes of which I have attended before.
So who are some of your favourite guitarists - and the ones who influenced you most?
Oh the list is endless. Just about anybody who has picked up a guitar that has any feel whatsoever, prior to me picking up a guitar, I was heavily influenced by. So there are people you'd expect to hear like Pete Townshend, Keith Richards, Jimmy Page and those guys. But then there's those who I think are great since then, like the Young brothers [Angus and Malcolm from AC/DC], the guys from Aerosmith, Rick Nielsen from Cheap Trick, Billy Gibbons [ZZ Top], and Elliot Easton from The Cars is a fantastic guitarist. But then Joe Walsh, B.B King, Buddy Guy ... I mean I could go on. I love guitar, and blues-driven guitar especially.
Do you remember the first time you picked up a guitar?
The first time I picked up a guitar I didn't know what to do with it and I was probably around 14 years old. The first guitar I ever got I was 15. It had one string and I started learning songs right away with the one string and then eventually I worked out how to put the other strings on and went from there. And not too long after that I got a Memphis Les Paul copy and I remember playing [Ted Nugent's] Cat Scratch Fever and I was on my way at that point.
How do you describe your style of guitar playing?
You know, I really don't stop to think about it that much. I wouldn't go as far to say it's unique, other than the fact that I think every guitar player has a unique style because as individuals we're all unique, so we're going to do everything our own way, regardless of whether we're doing our own style or trying to emulate somebody else. I think the one thing I seem to have a handle on is that I'm very much a feel player and when I'm on, I can play pretty good. The elusive zone that you're constantly chasing - when I'm there, I feel like I'm a pretty capable guitar player. Not technically, but in terms of connecting with the instrument and physically having everything meet as one and to be able to really express myself on guitar. That's the thing that turns me on about guitar the most.
I guess the technical and the "feel" type players cross over too?
There are amazing technical guitar players, a lot of them, like Roy Clarke or Chet Atkins or Robert Johnson, or Les Paul, who have great feel too. And when you think of Angus and Malcolm, I don't see them as great technical players, I see them as great feel players, very much rock 'n' roll, the same as Keith Richards and Pete Townshend, but they've developed a style of their own which is technically amazing. Although they never set out to be technically astute.
When did really hit upon your style as a guitarist?
Was it before Guns N' Roses, or during?As soon as I could put the three notes together that sounded like rock 'n' roll to me. I have pretty much not changed and have been evolving from those first three notes. I definitely think, whatever my style is [laughs], was established right away.
As a guitarist do you think you've made a difference in the music world?
I'm hopefully too young at this point to worry about that kind of shit.
But surely when you look back on what you have achieved to this point ...
But I don't spend a lot of time looking back, I think about what I'm doing now. I have to admit, when I'm doing a live performance and I'm playing something from the past that people are very passionate about, it strikes me in that instance that, 'wow, this really has had a big impact on people'. But that's about it.
LOWDOWN
Who: Slash (real name Saul Hudson)
What: Guitar legend and former Guns N' Roses axeman
Where & when: G-Taranaki International Music Week, August 11-15, New Plymouth
More info: gtaranaki.co.nz
Latest album: Slash, out now