Rating:
3/5
Verdict: Capital city artpop boffins falter on fourth.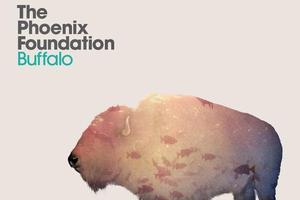 On their 2007 third album Happy Ending, some of us felt the Wellington band had delivered their masterwork after a couple of highly promising predecessors in Pegasus and Horsepower.
It was a great set of songs set against a scenic soundscape and as it swung through sardonic but exuberantly infectious tracks like Bright Grey and 40 Years it became something of an artpop wonderland and an enduring classic.
Three years and multiple solo albums from most of its membership later, the band have reconvened to explore some more. They've already got their wrigglier ideas out of the way on the recent Merry Kriskmass EP.
But though the way Buffalo sounds evokes the usual PF adjectives - "cinematic" always being a handy stand-by for the more ambitious stuff - too many of its 10 tracks leave little lasting impression.
Much of the second half seems to go past in a pleasant mid-tempo haze and with the the likes of Skeleton or Bailey's Beach, you might wonder if Buffalo is a triumph of soundcraft over songcraft.
That said, some songs do grabs like the best PF tracks of the past.
Among those is the title track, a surrealist ditty which, as it does live, thrills with its spiralling guitars and arpeggiating electronics all delivered at a suitable gallop.
Likewise Flock of Hearts offers sweetly chiming pop, Pot is infectious for the skip of its near-African rhythms and non-verbal vocal hooks, while, Bitte Bitte makes fine use of its bilingual wordplay, and like the movie Separation City that Foundation-ites Sam Scott and Luke Buda soundtracked last year, it too seems stretched between Wellington and Berlin.
Their Windy City home is nicely evoked on the first track Eventually, a hazy synthesiser-laden widescreen ballad about hunkering down for the winter on the slopes of Mt Victoria.
However, it does go on too long for an opener, even if it might be acting as a "dawn" bookend to the "dusk" suggested by closing track Golden Ship, another too-languid-for-the-album's-own-good song which eventually hits the spot with its swirling psychedelia.
So to invoke that perennial cinematic comparison, if this was a movie, it would get that description "beautifully shot". Yes Buffalo has some great scenes but it's no Happy Ending II.
-Russell Baillie