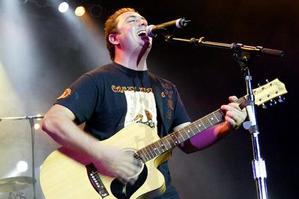 The choice of a cover of Right Here, Right Now by The Feelers as a marketing jingle for the 2011 Rugby World Cup has been widely panned by New Zealanders posting on the social networking site Twitter.
"You are SO freaken' uncool if you pick The Feelers," wrote "bunnzy" before it was officially announced that the Christchurch band would cover the song first released by Jesus Jones as a single in 1990.
"Kittengloves" said the only thing that could be worse than the original version would be a cover by The Feelers, whose well-known singles include Pressure Man, Venus and Stand Up.
"At least we won't have to hear it much..Oh no wait!", she wrote.
One person lamented that it couldn't possibly have been an April Fool's joke, but the reactions were not all negative.
"Decanker" looked forward to "standing on a squally winter waterfront drinking Heineken out of a plastic cup while The Feelers play 90's covers," while "Talent_Capital" said they were the most under-rated band in the country.
Other site users expressed relief that The Feelers had been chosen instead of Evermore, Elemeno P or other Kiwi bands.
Posting on his Twitter feed, The Edge DJ Dominic Harvey said the song sounded great and he couldn't understand the "mass hate."
"(It's) Not Jesus Jones, but it's not bad!", he wrote.
The song, written by frontman Mike Edwards and inspired by events such as the decline of communism in Eastern Europe and the fall of the Berlin Wall, has been used as an advertising tune for a popular New Zealand lager and American retail giant K-Mart.
In 2003, Edwards wrote in the Guardian that he had no qualms about playing the song at corporate functions.
"I recall from my music-press-reading days that accepting money from The Man is wrong but I can't remember why, or how it differs from signing a recording contract or playing a heavily sponsored festival," he wrote.
- NZ HERALD ONLINE